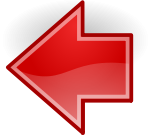 Drag this handle to use the spatula to toss the pancakes.
Instructions
Close

The objective is to stack all of the pancakes in order with the largest at the bottom and the smallest at the top. To do this drag the spatula down the page then insert it carefully between any two pancakes or below the bottom pancake. When you release your mouse button all of the pancakes above the spatula will be tossed, which in this case means they will be turned over so their order will be reversed. Continue the process until you have the ordered stack.
Level 1 - The 4 pancake puzzle.
Level 2 - The 5 pancake puzzle.
Level 3 - The 6 pancake puzzle.
Level 4 - The 7 pancake puzzle.
Level 5 - The 8 pancake puzzle.
Extension activity: Work out the smallest number of tosses required to order a stack of pancakes regardless of how much they are initially mixed up.
More Puzzles including lesson Starters, visual aids, investigations and self-marking exercises.
Answers to this exercise are available lower down this page when you are logged in to your Transum account. If you don't yet have a Transum subscription one can be very quickly set up if you are a teacher, tutor or parent.
Read more about Pancake Numbers in the excellent book Casebook of Mathematical Mysteries by Professor Ian Stewart