Inertia Racetrack
Player 1
Player 2
0
© Transum Mathematics :: This activity can be found online at:
www.Transum.org/go/?Num=556
Instructions
The objective of the game is to be the first player to get around the racetrack and reach the red FINISH line.
Each player adjusts the numbers on their race vector by clicking on one or more of the red buttons at the sides of their vectors. This only allow a maximum increment of one each time (this provides the notion of inertia).
When both players are happy with their settings the 'Run Vectors' button can be clicked.
Continue this process until at least one of the plays reaches the FINISH line.
This racetrack uses some futuristic technology that allows two racecars to occupy the same space at the same time - Amazing!
If the race is a draw try racing again on one of the other racetracks (levels). If one player is a clear winner a virtual trophy can be claimed by that player.
The titles Player 1 and Player 2 are editable so your names can be typed in.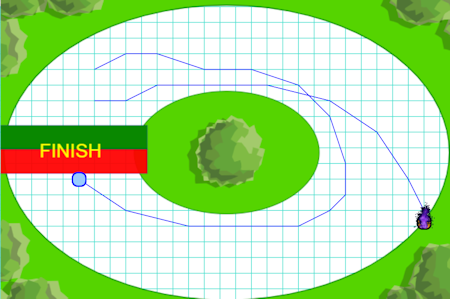 The image above shows a typical race that the blue car wins. The orange car crashed due to over-enthusiastic inertia!
Close