Angles in a Triangle

Can you work out the size of the angle marked with a letter in the given triangles?

This is level 1: find the marked angle in the triangle diagrams. You can earn a trophy if you get at least 7 questions correct and you do this activity online.
This is Angles in a Triangle level 1. You can also try:
Level 2
© Transum Mathematics 1997-2023
Scan the QR code below to visit the online version of this activity.
https://Transum.org/go/?Num=143
Description of Levels
Close

It is assumed that the angles together on a straight line theorem is already known.
Level 1 - Find the marked angle in the triangle diagrams
Level 2 - More interesting problems about the angles in triangles
Angles at a point - Apply the properties of angles at a point, angles on a straight line and vertically opposite angles.
Angles with Parallel Lines - Understand and use the relationship between parallel lines and alternate and corresponding angles.
Polygon Angles - Practise the skills of finding interior and exterior angles of polygons to answer these questions.
Angles in Circles - Show that you understand the circle theorems with this self marking exercise.
More Angle Resources - including lesson Starters, visual aids, investigations and self-marking exercises.
Help
The diagrams are not drawn to scale but lines that look like straight lines can be taken as straight lines.
Don't wait until you have finished the exercise before you click on the 'Check' button. Click it often as you work through the questions to see if you are answering them correctly. You can double-click the 'Check' button to make it float at the bottom of your screen.
The boxes made available to show working don't have to be used. It would be better to set out your working neatly in you exercise book but that may not always be practical.
+ The blue button allows you to add extra lines of working.
Please note that when the system marks your answers the working is not taken into consideration.
Answers to this exercise are available lower down this page when you are logged in to your Transum account. If you don't yet have a Transum subscription one can be very quickly set up if you are a teacher, tutor or parent.
Typing Mathematical Notation
These exercises use MathQuill, a web formula editor designed to make typing Maths easy and beautiful. Watch the animation below to see how common mathematical notation can be created using your keyboard.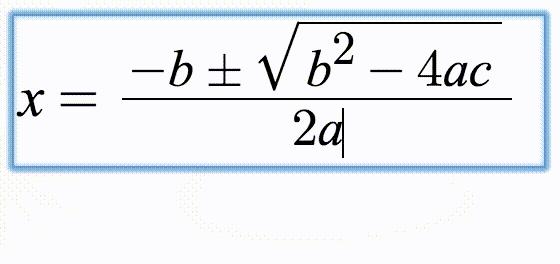 Close