This is level 1; Continue the basic Fibonacci sequence.
This is the basic Fibonacci sequence. Each term can be found by adding the previous two terms together. So the third term, 2, was found by adding the two ones together.
Can you fill in the gaps to show more terms of the Fibonacci sequence?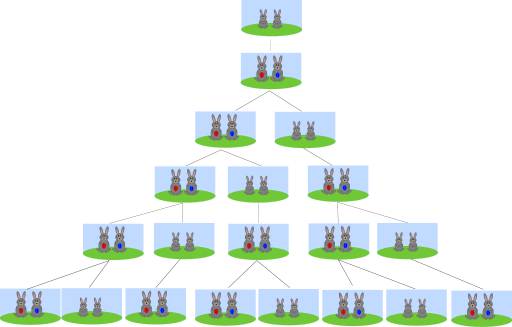 The original problem that Fibonacci, an Italian mathematician, investigated (in the year 1202) was about how fast rabbits could breed.
Starting with one pair of rabbits, a male and a female, and assuming that rabbits are able to mate at the age of one month. At the end of the second month a female can produce another pair of rabbits. Assuming that the rabbits never die and that the female always produces one new pair every month from the second month on, how many pairs will there be at the end of each month?
This is Fibonacci Quest level 1. You can also try:
Level 2 Level 3 Level 4 Level 5 Level 6
Description of Levels
Close

Level 1 - Continue the basic Fibonacci sequence
Level 2 - Continue the Fibonacci sequence in reverse
Level 3 - Find algebraic expressions for each term of a Fibonacci sequence
Level 4 - Finding the ratio of two successive numbers in Fibonacci's sequence
Level 5 - Investigate the highest common factor of every nth term of the Fibonacci sequence.
Level 6 - Finding missing terms from Fibonacci-type sequences.