You will need a square piece of paper. Thick Christmas wrapping paper is perfect!
Follow the instructions to make a tangram and then use it to create a Christmas tree.
You can decide whether or not overlapping pieces are allowed.

Your tree must be symmetrical.
When you have finished there will be a short quiz about your tangram tree.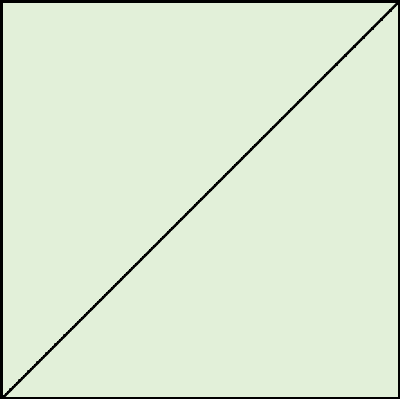 1
Using a pencil and ruler draw a diagonal line from the top right to bottom left corners of your square.
Take your time and be as accurate as possible.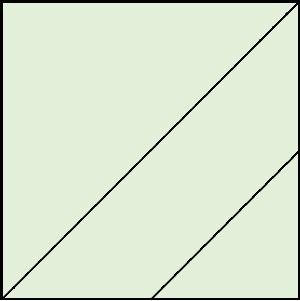 2
Measure the lengths of a side of your square to the nearest milimetre.
Halve this measurement to find the mid points of the right and bottom sides.
Join these two points with a straingt line.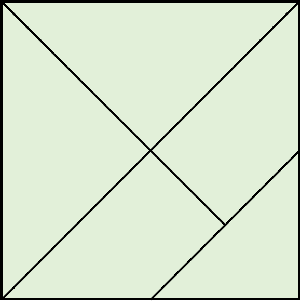 3
Place you ruler on the square as if you are going to draw the other diagonal.
Draw the line along your ruler from the top left point of the square until you reach the line you drew in instruction 2.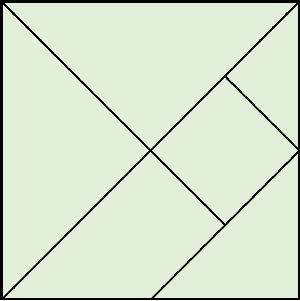 4
Draw a line parallel to the line you drew in instruction 2 that passes through the midpoint of the right side of the square as shown in the diagram.
You clould use a set square to help you draw parallel lines.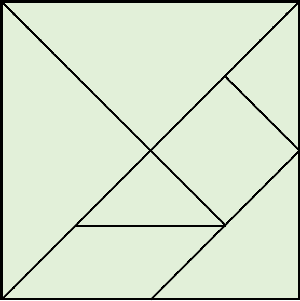 5
Draw a line parallel to the bottom of the square as shown to complete the tangram.
Your tangram is now ready to be cot out.