Pythagoras' Theorem Exercise

A self marking exercise on the application of Pythagoras' Theorem.
Here are some questions which can be answered using Pythagoras' Theorem. You can earn a trophy if you get at least 9 questions correct. Each time you finish a question click the 'Check' button lower down the page to see if you got it right! Diagrams are not to scale.

Description of Levels
Close

Level 0 - A 'whole number only' introductory set of questions
Level 1 - Finding the hypotenuse
Level 2 - Finding a shorter side
Level 3 - Mixed questions
Level 4 - Pythagoras coordinates
Level 5 - Mixed exercise
Level 6 - More than one triangle
Level 7 - Harder exercise
Exam Style questions requiring an application of Pythagoras' Theorem and trigonometric ratios to find angles and lengths in right-angled triangles.
Three Dimensions - Three dimensional Pythagoras and trigonometry questions
More on this topic including lesson Starters, visual aids, investigations and self-marking exercises.
Answers to this exercise are available lower down this page when you are logged in to your Transum account. If you don't yet have a Transum subscription one can be very quickly set up if you are a teacher, tutor or parent.
Curriculum Reference
Pythagoras' Theorem
The area of the square on the hypotenuse of a right angled triangle is equal to the sum of the areas of the squares on the two shorter sides.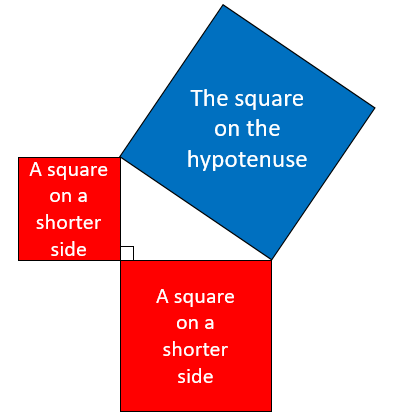 You may have learned the theorem using letters to stand for the lengths of the sides. The corners (vertices) of the right-angled triangle is labelled with capital (upper case) letters. The lengths of the sides opposite them are labelled with the corresponding small (lower case) letters.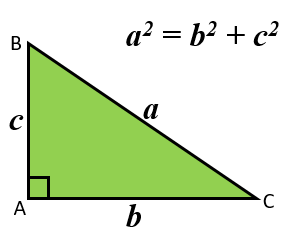 Alternatively the sides of the right-angled triangle may me named using the capital letters of the two points they span.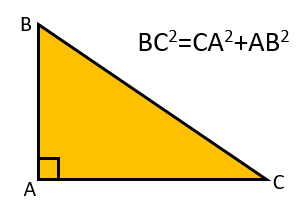 As triangle can be labelled in many different ways it is probably best to remember the theorem by momorising the first diagram above.
To find the longest side (hypotenuse) of a right-angled triangle you square the two shorter sides, add together the results and then find the square root of this total.
To find a shorter side of a right-angled triangle you subtract the square of the other shorter side from the square of the hypotenuse and then find the square root of the answer.
Example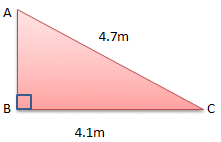 AB2 = AC2 - BC2
AB2 = 4.72 - 4.12
AB2 = 22.09 - 16.81
AB2 = 5.28
AB = √5.28
AB = 2.3m (to one decimal place)
The diagrams aren't always the same way round. They could be rotated by any angle.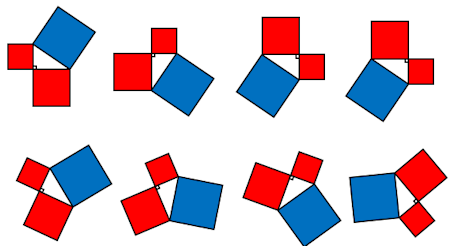 The right-angled triangles could be long and thin or short and not so thin.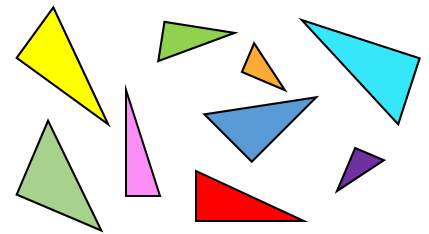 Don't wait until you have finished the exercise before you click on the 'Check' button. Click it often as you work through the questions to see if you are answering them correctly.
Close