Binary Numbers

Learn how to convert numbers from decimal to binary and from binary to decimal.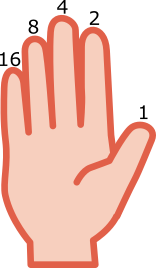 This level is about using fingers to represent binary digits. Each finger represents a different place value as shown here:
Some of the questions below show two hands. You will need to work out what the fingers on the other hand represent.
Did you know that you can count up to 31 using the fingers on just one hand? What is the largest number you can count up to using this binary method on two hands?
Type in the numbers (in base 10) that each of the diagrams below represent.
© Transum Mathematics 1997-2023
Scan the QR code below to visit the online version of this activity.
https://Transum.org/go/?Num=993
Description of Levels
Close
❎
Binary Lights - Visual aid with which you can practise.
Level 1 - Convert numbers 1 to 12
Level 2 - Convert numbers 13 to 24
Level 3 - Convert numbers 25 to 36
Level 4 - Convert numbers up to 63
Level 5 - Convert numbers without the lights
Level 6 - Convert binary numbers to decimal
Level 7 - Binary numbers with fingers
Level 8 - Binary arithmetic
Visual Aid
Click the link below to find an interactive set of binary lights with which you can practise.
---
Help Video
Don't wait until you have finished the exercise before you click on the 'Check' button. Click it often as you work through the questions to see if you are answering them correctly. You can double-click the 'Check' button to make it float at the bottom of your screen.
Answers to this exercise are available lower down this page when you are logged in to your Transum account. If you don't yet have a Transum subscription one can be very quickly set up if you are a teacher, tutor or parent.
Close
❎