Could a person who has not learnt about Roman numerals work out which centurian does not get a shield?
Note to teacher: Doing this activity once with a class helps students develop strategies. It is only when they do this activity a second time that they will have the opportunity to practise those strategies. That is when the learning is consolidated. Click the button above to regenerate another version of this starter from random numbers.
Answers
Sign in to your Transum subscription account to see the answers
---
---
Your access to the majority of the Transum resources continues to be free but you can help support the continued growth of the website by doing your Amazon shopping using the links on this page. Below is an Amazon link. As an Amazon Associate I earn a small amount from qualifying purchases which helps pay for the upkeep of this website.
Educational Technology on Amazon

---

Teacher, do your students have access to computers such as tablets, iPads or Laptops? This page was really designed for projection on a whiteboard but if you really want the students to have access to it here is a concise URL for a version of this page without the comments:

Transum.org/go/?Start=October25

However it would be better to assign one of the student interactive activities below.
Here is the URL which will take them to an interactive jigsaw puzzle of Roman numerals.
If you are not an expert on Roman numerals here is an explanation:
| | |
| --- | --- |
| Symbol | Value |
| I | 1 |
| V | 5 |
| X | 10 |
| L | 50 |
| C | 100 |
| D | 500 |
| M | 1,000 |
Numbers are formed by combining symbols together. So II is two ones, i.e. 2, and XIII is a ten and three ones, i.e. 13. There is no zero in this system, so 207, for example, is CCVII, using the symbols for two hundreds, a five and two ones. 1066 is MLXVI, one thousand, fifty and ten, a five and a one.
Symbols are placed from left to right in order of value, starting with the largest. However, in a few specific cases, to avoid four characters being repeated in succession (such as IIII or XXXX) these can be reduced using subtractive notation as follows:
the numeral I can be placed before V and X to make 4 units (IV) and 9 units (IX) respectively
X can be placed before L and C to make 40 (XL) and 90 (XC) respectively
C can be placed before D and M to make 400 and 900 according to the same pattern
Explanation adapted from the Wikepedia article on Roman numerals.
Extension
Which clockface is the odd one out?
The answer can be found by looking closely at the roman numerals used.
---
Riddle
What is my name?
Five hundred is at my end and at my start.
The number five is at my heart.
The first letter is second to appear,
But the first number completes me clear.
Challenge
Somewhere in London is a monument with a date in Roman numerals inscribed on its north side. The number contains each of the digits once each in order from M to I. The first person to send Transum a photograph of themselves in London in front of this inscription will win a nice prize.
The prize remains unclaimed as of today, Saturday 23rd September 2023
Challenge Update 8th April 2022
Children in Year 5 of Whitchurch Primary in Oxford UK have had great fun exploring the site to complete their unit on a Roman numerals. They were excited to solve the challenge to do with the London monument. They used their super-smart research skills to work out which monument has the inscription and they even found a photograph of it on the web.
The children of Year 5 have not yet managed to get to London to take a prize winning photograph so the prize is still up for grabs!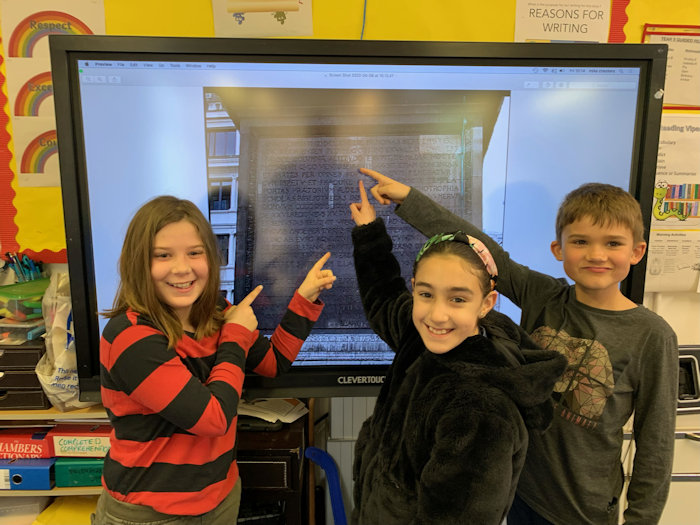 Three members of the Year 5 class can be seen in the photograph above. Very well done and a special mention for Mr Chesters, their teacher.