Description of Levels
Close

Level 1 - Comparing positive integers
Level 2 - Comparing positive and negative decimal numbers
Level 3 - Comparing positive and negative fractions
Level 4 - Comparing metric measures
Level 5 - Matching statements to number line diagrams.
Level 6 - Solving linear inequalities.
Level 7 - Solving linear two part inequalities.
Level 8 - Matching statements to graphs.
Level 9 - Quadratic Inequalities
Exam Style questions are in the style of GCSE or IB/A-level exam paper questions and worked solutions are available for Transum subscribers.
More on this topic including lesson Starters, visual aids and investigations.
Example
The following diagram represents y ≥ x and y < 2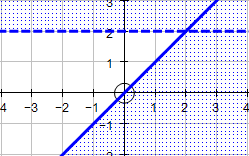 Notice that the points on the line y = x are included but the points on the line y = 2 are not.
The most important thing is to talk to your teacher if there is anything you don't understand about this topic.
Answers to this exercise are available lower down this page when you are logged in to your Transum account. If you don't yet have a Transum subscription one can be very quickly set up if you are a teacher, tutor or parent.
Close