Question id: 207. This question is similar to one that appeared on an IB Studies paper in 2015. The use of a calculator is allowed.
A drone flying test course is in the shape of a triangle, ABC, with AB = 400m , BC = 600m and angle ABC = 44o. The course starts and finishes at point A.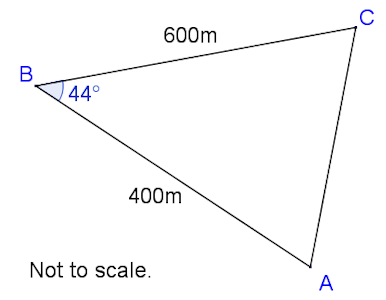 (a) Calculate the total length of the course to the nearest metre.
It is estimated that a drone can travel at an average speed of 4.5ms–1.
(b) Calculate an estimate of the time taken to fly around the course. Give your answer to the nearest minute.
(c) Find the size of angle ACB.
To comply with safety regulations, the area inside the triangular course must be kept clear of people, and the shortest distance from B to AC must be greater than 275 metres.
(d) Calculate the area that must be kept clear of people.
(e) Determine, giving a reason, whether the course complies with the safety regulations.
The course is viewed from a tower which rises vertically from point A. The top of the tower is point T. The angle of elevation of T from B is 8o.
(f) Calculate the vertical height, AT , of the tower.