Quadratic and Cubic Sequences

Deduce expressions to calculate the nth term of quadratic and cubic sequences.
This is level 1; Quadratic sequences of the form n2 + c. You can earn a trophy if you get at least 4 questions correct.
© Transum Mathematics 1997-2023
Scan the QR code below to visit the online version of this activity.
https://Transum.org/go/?Num=589
Description of Levels
Close

Level 1 - Quadratic sequences of the form n2 + c
Level 2 - Quadratic sequences of the form an2 + c
Level 3 - Quadratic sequences of the form an2 + bn + c
Level 4 - Quadratic sequence problem solving
Level 5 - Cubic sequences of the form an3 + bn2 + cn + d
Exam Style questions are in the style of GCSE exam paper questions and worked solutions are available for Transum subscribers.
Handshakes - Try this lesson Starter which can generate a quadratic number sequence.
More on this topic including lesson Starters, visual aids, investigations and self-marking exercises.
Quadratic Sequence
This video explains how to find the nth term of a quadratic sequence and is from Mr Hegarty.
A shorter, concise method is shown here.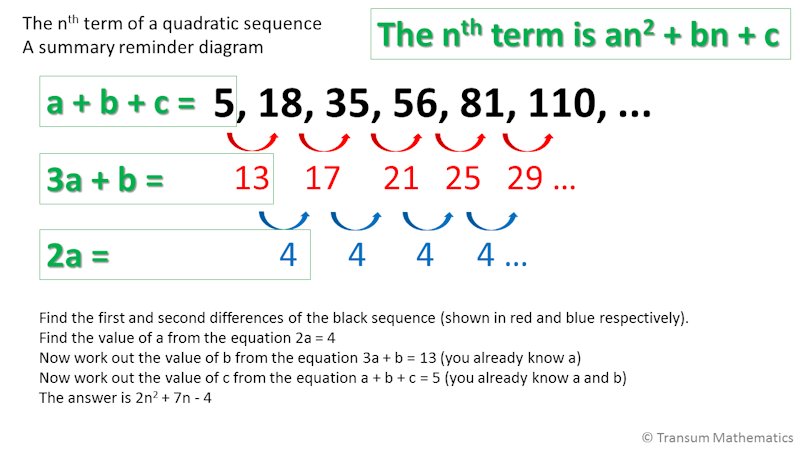 Cubic Sequence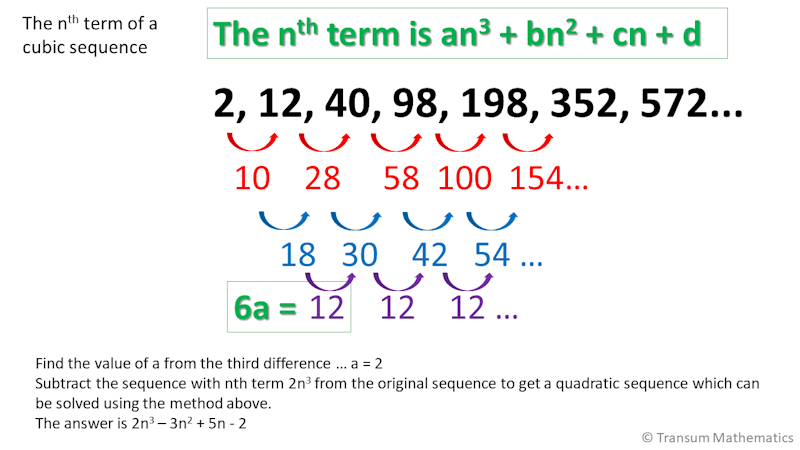 Don't wait until you have finished the exercise before you click on the 'Check' button. Click it often as you work through the questions to see if you are answering them correctly. You can double-click the 'Check' button to make it float at the bottom of your screen.
Answers to this exercise are available lower down this page when you are logged in to your Transum account. If you don't yet have a Transum subscription one can be very quickly set up if you are a teacher, tutor or parent.
Close