Here are the six islands of Transumberg connected by nine bridges.
Can you find a route, starting on any of the islands, that crosses each bridge once?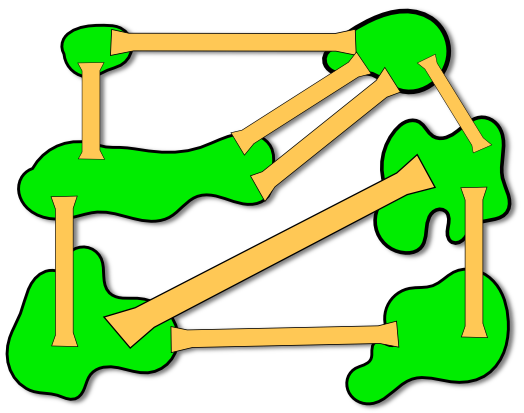 If you found that puzzle easy try this: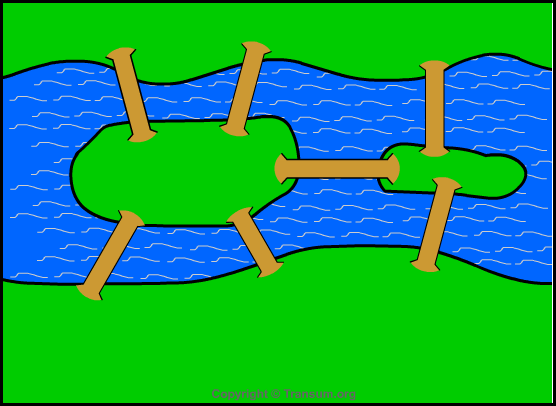 Can you find a route crossing each bridge once (and only once)?
Which town is this?
Answers
Sign in to your Transum subscription account to see the answers
Can you make up your own bridge crossing puzzle with a different number of bridges and islands. How can you predict if the puzzle will be impossible?
---
---
Your access to the majority of the Transum resources continues to be free but you can help support the continued growth of the website by doing your Amazon shopping using the links on this page. Below is an Amazon search box and some items chosen and recommended by Transum Mathematics to get you started.
Apple iPad Pro

The analytics show that more and more people are accessing Transum Mathematics via an iPad as it is so portable and responsive. The iPad has so many other uses in addition to solving Transum's puzzles and challenges and it would make an excellent gift for anyone.

The redesigned Retina display is as stunning to look at as it is to touch. It all comes with iOS, the world's most advanced mobile operating system. iPad Pro. Everything you want modern computing to be. more...

Before giving an iPad as a Christmas gift you could add a link to iPad Maths to the home screen.
Math with Bad Drawings

I had been tutoring the wonderful Betsy for five years. When the day came for our last ever session together before the end of her Year 13, I received this beautiful book as a gift of appreciation.

This a very readable book by Ben Orlin. I'm really enjoying the humour in the writing and the drawings are great.

Ben Orlin answers maths' three big questions: Why do I need to learn this? When am I ever going to use it? Why is it so hard? The answers come in various forms-cartoons, drawings, jokes, and the stories and insights of an empathetic teacher who believes that mathematics should belong to everyone.
A Compendium Of Mathematical Methods

How many different methods do you know to solve simultaneous equations? To multiply decimals? To find the nth term of a sequence?

A Compendium of Mathematical Methods brings together over one hundred different approaches from classrooms all over the world, giving curious mathematicians the opportunity to explore fascinating methods that they've never before encountered.

If you teach mathematics to any age group in any country, you are guaranteed to learn lots of new things from this delightful book. It will deepen your subject knowledge and enhance your teaching, whatever your existing level of expertise. It will inspire you to explore new approaches with your pupils and provide valuable guidance on explanations and misconceptions. more...

---

Teacher, do your students have access to computers?
Do they have iPads or Laptops in Lessons?

Whether your students each have a TabletPC, a Surface or a Mac, this activity lends itself to eLearning (Engaged Learning).
Here a concise URL for a version of this page without the comments.
Here is the URL which will take them to a similar type of puzzle.
---
The Parson's Puzzle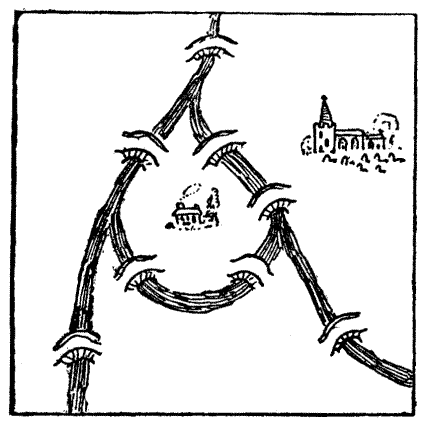 "Here, my worthy Pilgrims, is a strange riddle," quoth the Parson. "Behold how at the branching of the river is an island. Upon this island doth stand my own poor parsonage, and ye may all see the whereabouts of the village church. Mark ye, also, that there be eight bridges and no more over the river in my parish. On my way to church it is my wont to visit sundry of my flock, and in the doing thereof I do pass over every one of the eight bridges once and no more. Can any of ye find the path, after this manner, from the house to the church, without going out of the parish? Nay, nay, my friends, I do never cross the river in any boat, neither by swimming nor wading, nor do I go underground like unto the mole, nor fly in the air as doth the eagle; but only pass over by the[Pg 49] bridges." There is a way in which the Parson might have made this curious journey. Can the reader discover it? At first it seems impossible, but the conditions offer a loophole.
The Canterbury Puzzles, by Henry Ernest Dudeney
History
In the history of mathematics, the first person go on record with a proven statement about the second problem above was Leonhard Euler in 1736. His 'solution' is considered to be the first theorem of graph theory and the first true proof in the theory of networks, a subject now generally regarded as a branch of combinatorics.

In addition, Euler's recognition that the key information was the number of bridges and the list of their endpoints (rather than their exact positions) is the basis of topology. The difference between the actual layout and the graph schematic is a good example of the idea that topology is not concerned with the rigid shape of objects.