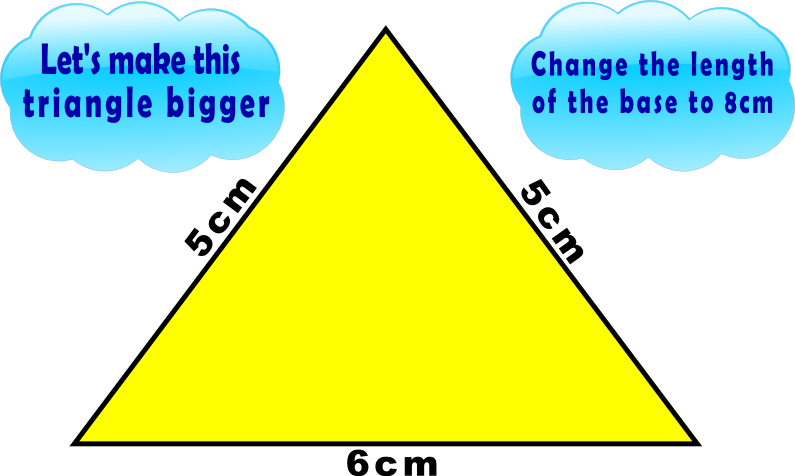 If the base of this triangle became 8cm but the other sides remained 5cm, how much would its area increase?
Answers
Extension
Can you find another pair of triangles that, like those above, surprisingly have the same areas?
What is the length of the base which gives the triangle mentioned above the maximum area?
---
---
Your access to the majority of the Transum resources continues to be free but you can help support the continued growth of the website by doing your Amazon shopping using the links on this page. Below is an Amazon link. As an Amazon Associate I earn a small amount from qualifying purchases which helps pay for the upkeep of this website.
Educational Technology on Amazon

---

Teacher, do your students have access to computers such as tablets, iPads or Laptops? This page was really designed for projection on a whiteboard but if you really want the students to have access to it here is a concise URL for a version of this page without the comments:

Transum.org/go/?Start=August5

However it would be better to assign one of the student interactive activities below.
Here is the URL which will take them to a related student activity.
---
Extension Answers
A first thought might be that the graph of area against length of base is symetrical but it is not. A graphic calculator will help you identify equal-area bases and the length of base giving the maximum area:
---