Transformations Level 7

Learn how to solve mixed transformation problems and answer exam-style questions.
This is level 7: describe the transformation from the diagrams. You can earn a trophy if you get at least 9 questions correct and you do this activity online.
Description of Levels
Close

Level 1 - Reflect a shape in a given line
Level 2 - Translate a shape by a given vector
Level 3 - Rotate a shape about a given point by a given angle
Level 4 - Enlarge a shape from a given point by a given scale factor
Level 5 - Transform a shape by a given matrix
Level 6 - Mixed questions without diagrams
Level 7 - Describe the transformation from the diagrams
Exam Style questions are in the style of GCSE or IB/A-level exam paper questions and worked solutions are available for Transum subscribers.
There is a printable worksheet to go with this activity.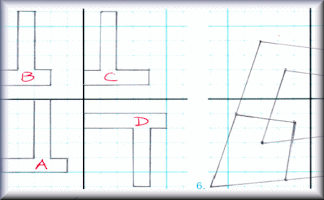 Finally try Blow Up, a clallenge to find all the points that could be the centre of enlargement of a shape if the image does not go off the grid. Great fun!
Help
You may want to open the Graph Plotter in a new tab to help you answer these questions.
Alternatively you could print some Graph Paper, have it laminated then use a non-permanent pen as a handy working resource.
Don't wait until you have finished the exercise before you click on the 'Check' button. Click it often as you work through the questions to see if you are answering them correctly. You can double-click the 'Check' button to make it float at the bottom of your screen.
Answers to this exercise are available lower down this page when you are logged in to your Transum account. If you don't yet have a Transum subscription one can be very quickly set up if you are a teacher, tutor or parent.
Close