Have you got change?
The other day I was asked if I could change a 50 pence piece. I had more than 50 pence in coins in my pocket but I could not make exactly 50 pence.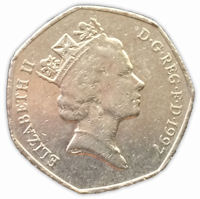 Can you find several ways this could happen?
What is the largest amount I could have had in my pocket?
[See also Take Baht and Combinations]
| | | |
| --- | --- | --- |
| | This activity is suitable for pupils of mathematics all around the world. Use the button below to change the currency used to make it more relevant to your pupils. You may wish to choose an unfamiliar currency to extend your pupils' experience. | |
Investigate further.....