Easter Egg Hunt
Instructions
Use the arrow keys on your keyboard or the buttons below to move the token through the maze to the red square marked F(inish).
To collect an Easter egg you will need to answer a multiple choice question. If you get the question wrong you will be sent back to the start.
Follow up
A list of the questions that you answered incorrectly appears below. Ask your teacher for help with anything you don't understand.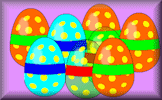 In how many different ways can two eggs be arranged in an egg box?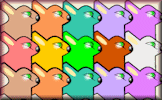 The Easter bunny reproduces very quickly so that you can create a tessellating pattern of rabbits.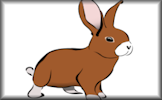 Plot the coordinates to reveal the Easter creature - very cute!