Vector Maze
© Transum Mathematics :: This activity can be found online at:
www.Transum.org/go/?Num=780
Instructions
Close

Type numbers into the vectors to create movement. For example, in level 1 you may decide the first vector should represent five squares across (positive values move to the right and negative values left) and eleven squared down (positive values are up and negative values down).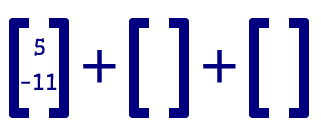 Press the 'Run Vectors' button to see the affect of your chosen numbers.
The objective is to find the shortest route to reach the red circle. You might be able to shorten your route if you use more vectors.
Currently the shortest route for this level (Level 1) has been achieved by someone claiming a trophy with the name 21lheathlay with a distance of 24.3 units on Monday, November 13, 2023. Can you beat that? If you can make sure you claim a trophy because that is how fast times are officially recognised.
Can you find a shorter route?
You can calculate the length of each leg of your journey by using Pythagoras' Theorem. In the example below red lines have been drawn to show the horizontal and vertical components of the vector, 3 across and 4 down.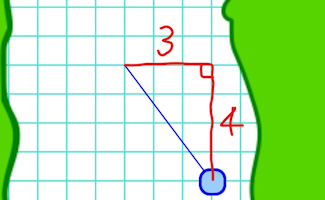 Prthagoras' Theorem states that the length of the hypotenuse (the blue line) is equal to the square root of the squares of the other two sides added together (the red lines).

So the length of this leg of your journey is 5 units. You will find that the lengths you are finding in this way don't often turn out to be whole numbers so you should round of the length of your complete journey to three significant figures.