Complete the pyramids so that the numbers in each brick is the sum of the two numbers in the bricks below.
© Transum Mathematics :: This activity can be found online at:
www.Transum.org/go/?Num=891
Description of Levels
Close

Level 1 - Adding positive whole numbers
Level 2 - Adding directed numbers
Level 3 - Adding fractions
Pyramid Puzzle - The same sort of puzzle but with a different objective.
More activities including lesson Starters, visual aids, investigations and self-marking exercises.
Help
The number in each brick of the pyramid is found by adding together the numbers in the two bricks below. To find the numbers in some bricks you may have to use subtraction if a brick number above is given. You will need a good problem solving styrategy to solve the last two puzzles in each exercise.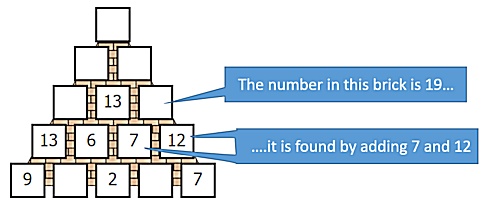 Mathematical Notation
Use the forward slash / to type a fraction then the right arrow or tab key to end the fraction.
For example: Type 1/2 to get a half.
For mixed numbers, such as three and a half, type 3 space 1/2.
Fractions should be given in their lowest terms.
Don't wait until you have finished the exercise before you click on the 'Check' button. Click it often as you work through the questions to see if you are answering them correctly. You can double-click the 'Check' button to make it float at the bottom of your screen.
Answers to this exercise are available lower down this page when you are logged in to your Transum account. If you don't yet have a Transum subscription one can be very quickly set up if you are a teacher, tutor or parent.
Close