Area and Perimeter of a Parallelogram

Many different ways to practise your skills finding the areas and perimeters of parallelograms.
This is level 1. How many grid squares make up the areas of these parallelograms?
© Transum Mathematics 1997-2023
Scan the QR code below to visit the online version of this activity.
https://Transum.org/go/?Num=901
Description of Levels
Close

Level 1 - Finding the areas of parallelograms by counting squares
Level 2 - Using the formula for finding the areas of parallelograms
Level 3 - Finding the perimeters of parallelograms
Level 4 - Finding the areas and perimeters of parallelograms by measuring lengths
Level 5 - Mixed questions including distractors
Level 6 - Problem solving including composite shapes and algebra
More on this topic including lesson Starters, visual aids, investigations and self-marking exercises.
Formula
A parallelogram is a four-sided shapes with opposite sides of equal length.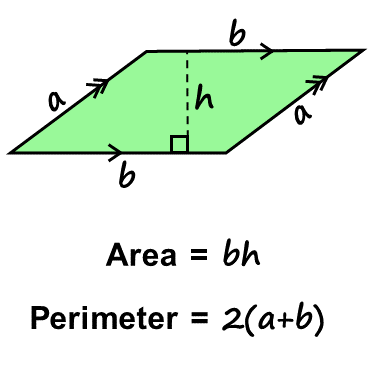 Answers to this exercise are available lower down this page when you are logged in to your Transum account. If you don't yet have a Transum subscription one can be very quickly set up if you are a teacher, tutor or parent.
Close