Plans and Elevations

Recognise, visualise and interpret plans and elevations of three dimensional shapes.
This is level 4; Eight views of two afternoon tea tables but who sees what?.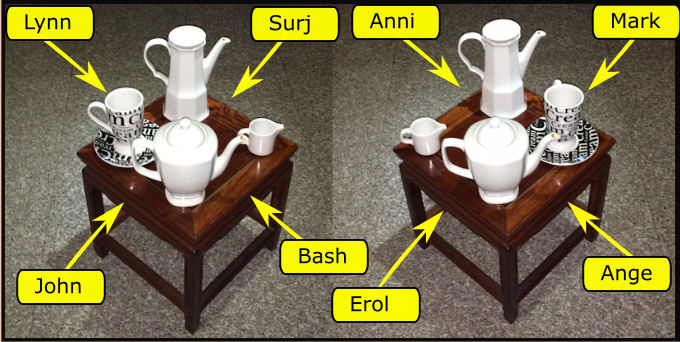 Match the views to the people.
Description of Levels
Close

Level 1 - Identify the views of a south-facing house taken from eight different directions
Level 2 - Identify the line drawings of different views of packs of playing cards
Level 3 - Eight artists drew sketches of three objects from different positions which you must identify
Level 4 - Eight views of two afternoon tea tables but who sees what?
Exam Style Questions - A collection of problems in the style of GCSE or IB/A-level exam paper questions (worked solutions are available for Transum subscribers).
More on this topic including lesson Starters, visual aids, investigations and self-marking exercises.
Help
If you can not see all of the details on your screen at the same time you can use your browser controls to zoom out. Alternately if you would like to see something in more detail you can zoom in.
Zoom
From the Tools menu select Zoom and then select 75% or 50% or 200% to suit your needs.

Alternatively try hitting CTRL and - a few times to Zoom out or CTRL and + a few times to Zoom in.
Don't wait until you have finished the exercise before you click on the 'Check' button. Click it often as you work through the questions to see if you are answering them correctly. You can double-click the 'Check' button to make it float at the bottom of your screen.
Answers to this exercise are available lower down this page when you are logged in to your Transum account. If you don't yet have a Transum subscription one can be very quickly set up if you are a teacher, tutor or parent.
Close