On a full page in the back of your exercise book draw a perfectly regular pentagon.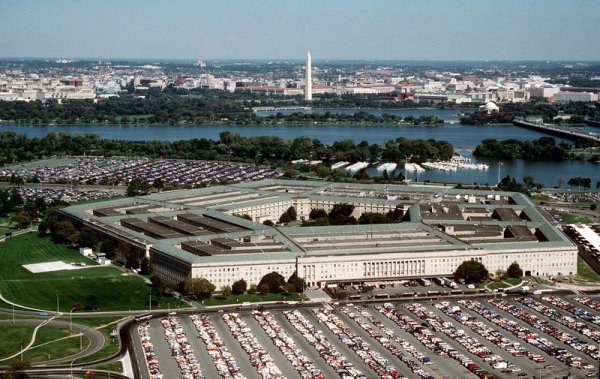 This image is a work of a U.S. military or Department of Defense employee, taken or made during the course of an employee's official duties.
As a work of the U.S. federal government, the image is in the public domain.
Note to teacher: This activity could be used to revise finding the size of angles in regular polygons followed by a pencil, ruler and protractor construction. Pupils might be surprised to learn that there is also a nice origami solution!
Answers
Sign in to your Transum subscription account to see the answers
---
---
Your access to the majority of the Transum resources continues to be free but you can help support the continued growth of the website by doing your Amazon shopping using the links on this page. Below is an Amazon link. As an Amazon Associate I earn a small amount from qualifying purchases which helps pay for the upkeep of this website.
Educational Technology on Amazon

---

Teacher, do your students have access to computers such as tablets, iPads or Laptops? This page was really designed for projection on a whiteboard but if you really want the students to have access to it here is a concise URL for a version of this page without the comments:

Transum.org/go/?Start=September13

However it would be better to assign one of the student interactive activities below.
It is quite easy to draw a perfect pentagon using the repeat command in Logo. Follow the link below for an online version.
It is also possible to fold a kite from an A4 sheet of paper. Follow the link below for more information.
Curriculum Reference
---