Hot Number Challenges
Each person needs ten cards or counters labelled 0 - 9.

Challenge 1
Challenge 2
Challenge 3
Challenge 4
Challenge 5
Challenge 6
Challenge 7
Challenge 8
Challenge 9
Challenge 10
Instructions
This page is designed to be projected on the whiteboard so that all of the students in the class can see the challenges. The students attempt to complete each challenge with their ten cards or counters labelled 0-9.
The teacher chooses the challenge by clicking on one of the buttons above. When the challenge has been completed double click the button and it will turn green keeping a record of the challenges completed.
Students can easily make their own numbered cards or use playing cards. Here is a printable set of cards if you have time to prepare them.
The solutions to this and other Transum puzzles, exercises and activities are available in this space when you are signed in to your Transum subscription account. If you do not yet have an account and you are a teacher or parent you can apply for one here.
A Transum subscription also gives you access to the 'Class Admin' student management system and opens up ad-free access to the Transum website for you and your pupils.
Having a set of cards, counters or tokens numbered nought to nine are a great resource that can be used for many different types of mathematical activity by learners of all ages.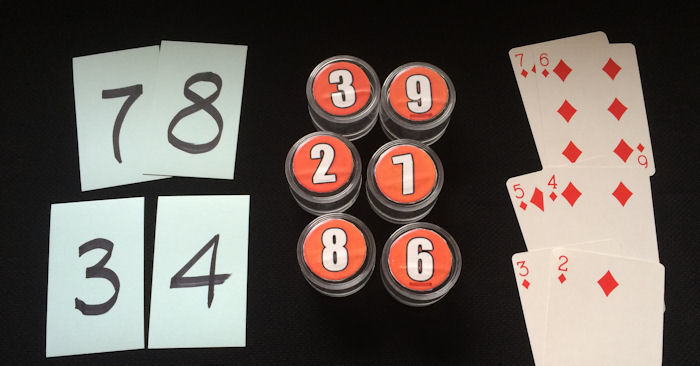 Here you can see cards made by writing numbers with a thick felt pen on the backs of surplus business cards. In the centre of the photograph are pill pots with number stickers on the lids and on the right you can see playing cards.
These plastic jigsaw numbers were being sold very cheaply in the local supermarket. If you have the facilities at your school you could print out on card then laminate your own set of cards from our template. Here is our printable set of cards.
Finally, a better alternative to all of the ideas above is to let each student work through the challenges online with out student version of Hot Numbers.