One way of writing a word in a secret code is to write the difference of the values of each letter compared to the next (including negative numbers if the first letter in a pair has a larger value than the second)
For example the word AREA would be 17,-13,-4.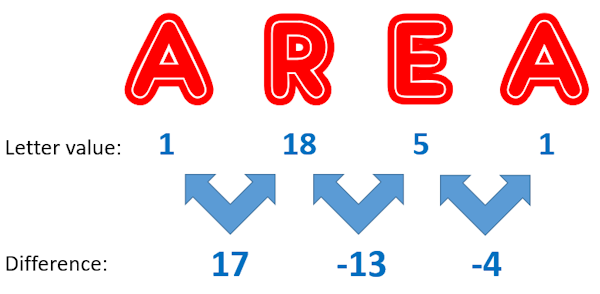 However many other sets of four letters would also have this same three-numbered cipher.
The following cipher could only be one possible nine-letter word. What is it?
-2, -17, 15, -11, 21, -17, 12, -8
Answer
More Mathematics Lesson Starters
"As an extension activity: Which other words can you find that will create unique ciphers?

For more activities like this see the Code Cracking presentation and related challenges."
---
---
Your access to the majority of the Transum resources continues to be free but you can help support the continued growth of the website by doing your Amazon shopping using the links on this page. Below is an Amazon search box and some items chosen and recommended by Transum Mathematics to get you started.
GCSE Revision and Practice

Whatever exam board you use for GCSE Mathematics, this book by David Rayner remains an all-round winner. With this latest edition presented in full colour and completely updated for the new GCSE(9-1) specifications, this uniquely effective text continues to increase your chance of obtaining a good grade.

This book is targeted at the Higher tier GCSE, and provides a wealth of practice with careful progression, alongside substantial revision support for the new-style grading and exam questions. With all the new topics included, and a dedicated section on using and applying mathematics, this unique resource can be used either as a course book over two or three years or as a revision text in the run-up to exams. more...
---