There are 10 dangerous landmines in the grid above. If you click on one you lose the game. Your mission is to find out where all of the mines are by clicking on the cells that surround them. There are clues in some of the cells; numbers which tell you how many of the adjacent nine cells have mines in them. Start clicking on the cells above to play the game.
This is Mine Find level 1. You can also try
Level 2 Level 3 Level 4 Level 5 Level 6 Level 7 Level 8 Level 9
Here is an example showing how the cells around the mines are numbered: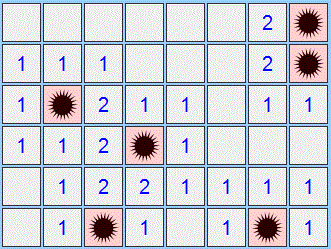 This game is an adaption of Mine Sweeper written by Ben Nadel. Source code provided at www.bennadel.com.
The solutions to this and other Transum puzzles, exercises and activities are available here when you are signed in to your Transum subscription account. If you do not yet have an account and you are a teacher, tutor or parent you can apply for one by completing the form on the Sign Up page.
A Transum subscription also gives you access to the 'Class Admin' student management system, downloadable worksheets, many more teaching resources and opens up ad-free access to the Transum website for you and your pupils.
Congratulations
You have found all of the mines.
Explosion!
You have walked into a mine.