A numerical strategy game
The objective is to choose three numbers that will add up to 15.
Click a number to begin.
The solution (winning strategy) to this and other Transum puzzles, exercises and activities are available here when you are signed in to your Transum subscription account. If you do not yet have an account and you are a teacher, tutor or parent you can apply for one here.
A Transum subscription also gives you access to the 'Class Admin' student management system, downloadable worksheets many more teaching resources and opens up ad-free access to the Transum website for you and your pupils.
---
There is a set of printable cards to go with this activity.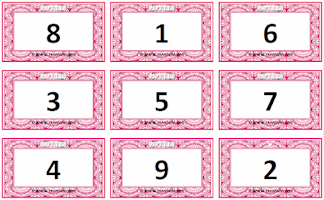 The javascript for this game above was adapted from code made public by Stephen Ostermiller
(GNU General Public License as published by the Free Software Foundation).