Just when you think you have seen it all these monkeys perform to surprise you. Taken with an iPhone 3GS the photographs and video you see below capture the moment when these monkeys decided to have some fun by jumping into the sea from a convenient rock.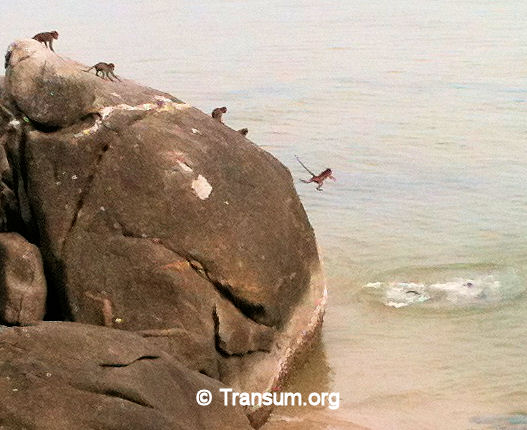 It appears that the monkeys are simply having fun. There is no evidence that they are trying to catch fish or wash themselves but are using their leisure time in this way.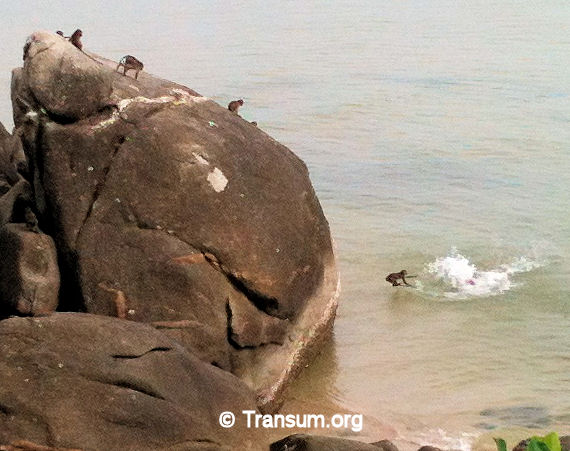 The video was posted on YouTube and in a couple of days had scored over one million views. The viewers made many comments on their reaction to the video and gave suggestions as to what had initiated the behaviiour. One viewer asked "Is it possible they saw humans jumping from that same rock and learned it was fun?" while another observed "You can clearly see them talking to each other debating on who is jumping first".
The video also created a huge argument about evolution and religion based on the way the monkeys were acting in a similar way to humans. Many people saw the funny side and suggested points should be given for style (as they do at the Olympics) while others made more specific observations: "Looks like the monkey at 0:55 was pushed. Notice it goes flipping off awkwardly and barely clears the rock? Then the monkey behind it (Mr. Pushy Pants) leaps in. "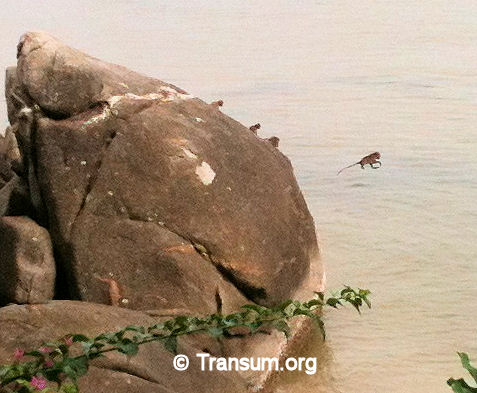 The video below show shows the action as recorded in July 2013 at khao Takiap, Hua Hin in Thailand. The sound of building work can be heard in the background. The iPhone camera did not have a zoom facility so you'll have to look closely.
Steven Ross commented: "I've been to this exact spot. It's in Hua Hin near Supatra Lodge and giant Golden Buddha at the end of the beach. It's hotter than purgatory during the day so no surprise the monkees are taking a dip. If you keep going up from where this person is filming, you'll find an awesome open air massage place. Girls who work their have to hide food or those same monkees will steal it blind. I've seen it."
Here is a very short sequel to the original video showing the same scene but the video was taken with a different camera which had a better zoom.
Finally for those who have requested a close up, here's a mother and baby from the same group.