Volume Equals Surface Area

Find the cuboids with integer side lengths where the volume is numerically equal to the surface area.
There are ten cuboids with edge lengths one or two digit integers where the numerical value of the surface area in square centimetres is equal to the value of the volume in cubic centimetres.
Use technology to find the dimensions of all ten cuboids ( width ≤ length ≤ height ) in centimetres.
© Transum Mathematics 1997-2023
Scan the QR code below to visit the online version of this activity.
https://Transum.org/go/?Num=912
Suggestions
This activity is not intended to be a trial-and-error activity for novice mathematicians. It was designed to encourage higher attaining students to investigate new problem solving methods using technology. It could be an individual task or a collaborative effort with everyone in class having a part to play.
here are some thoughts I have had for how technology could be used. Please let me know if you have any other suggestions.
Spreadsheet
Set up a two-way table for length and height with row and column headings from one to one hundred. In a different cell type in the value 1 for the width. In the table set up conditional formatting to flag up surface area = volume with a formula. Change the value of the width to 2,3,4 etc. noting the dimensions of the successful cuboids as you go. You will have found all ten when you have reached width = 6.
Program
Write a program on your graphing calculator or computer with nested loops to check all possible combinations of width, length and height then print out the details of the successful tests. For example, in the Visual Basic programming language the code might look like this:

Investigate how to create loops in Online Logo to perform this task.
Calculator
Use the calculator the find the prime factors of the given volumes then show all the ways those prime factors could be combined to produce three factors (width (W), length (L) and height (H) where W ≤ L ≤ H).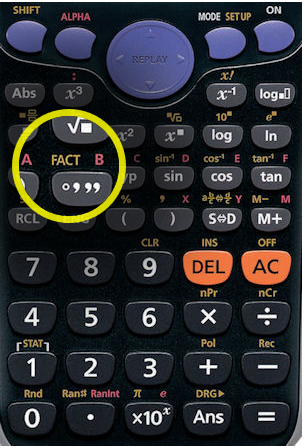 Define a graphic display calculator (GDC) function to work out surface area from the dimensions of the cuboid.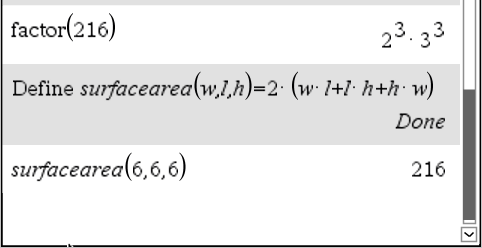 ---
Don't wait until you have finished the exercise before you click on the 'Check' button. Click it often as you work through the questions to see if you are answering them correctly. You can double-click the 'Check' button to make it float at the bottom of your screen.
Answers to this exercise are available lower down this page when you are logged in to your Transum account. If you don't yet have a Transum subscription one can be very quickly set up if you are a teacher, tutor or parent.
Close
❎