Imagine you are on a desert island with nothing but a pack of playing cards. Do you have to stop learning mathematics? Of course not, there are many fascinating mathematical activities you can enjoy and here are some ideas.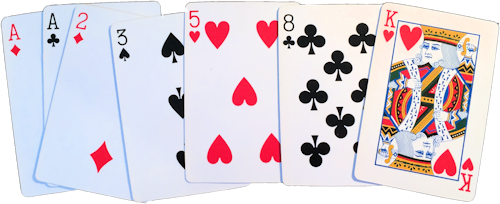 If you are not familiar with standard playing cards here is a guide.
There are 52 cards in a pack (usually called a deck). The cards are grouped into four suits of 13 cards each. these suits are called clubs, diamonds, hearts and spades. Click on a tab below to see the cards in each of these suits.
Hearts ♥ Diamonds ♦ Clubs ♣ Spades ♠
Hearts

♥

Ace of Hearts

Two of Hearts

Three of Hearts

Four of Hearts

Five of Hearts

Six of Hearts

Seven of Hearts

Eight of Hearts

Nine of Hearts

Ten of Hearts

Jack of Hearts

Queen of Hearts

King of Hearts