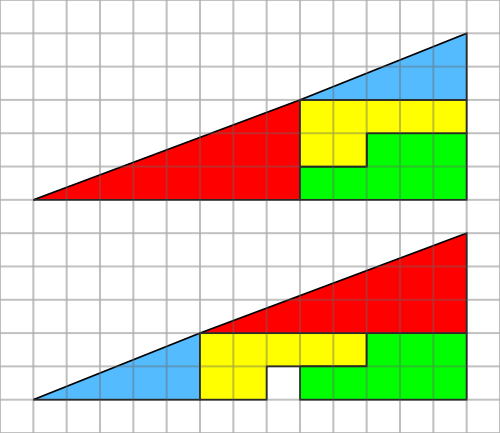 The four coloured pieces can be put together in two different ways to make these shapes with base 13 units and height 5 units. Why is there one square missing in the second arrangement?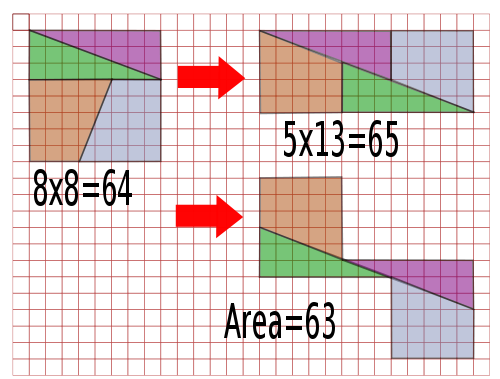 Sam Loyd presented this Chessboard Paradox at the American Chess congress in 1858. Notice the Fibonacci numbers which can be found in both of these diagrams.
---

As you probably guessed, even though the red lines don't look parallel they actually are.
---
More Mathematical Optical illusions
---
Casio Classwiz Calculator

There is currently a lot of talk about this new calculator being the best in its price range for use in the Maths classroom. The new ClassWiz features a high-resolution display making it easier to view numerical formulas and symbols but it isn't a graphical calculator as such (it has the capacity to draw graphs on your smart phone or tablet, via a scannable QR code and an app).

As well as basic spreadsheet mode and an equation solving feature you also get the ability to solve quadratic, cubic or quartic polynomial inequalities and the answer is given just as it should be written down, using the correct inequality symbols!

This calculator has a high-performance processor and twice the memory of previous models ensuring speedy operation and superior computational power.more...
Answers

---

Teacher, do your students have access to computers?
Do they have iPads or Laptops in Lessons?

Whether your students each have a TabletPC, a Surface or a Mac, this activity lends itself to eLearning (Engaged Learning).
Here a concise URL for a version of this page without the comments.
Here is the URL which will take them to a related student activity.
Students can create their own presentation of the Missing Square Puzzle to show to other classes or in an assembly. Here are some guidelines for using PowerPoint
PowerPoint 2007:
On the Home tab, in the Drawing group, click Arrange, point to Align, and then click Grid Settings.
Tick the Snap objects to grid and the display grid on screen boxes. Select from the dropdown box a spacing of 1cm.
PowerPoint 2013: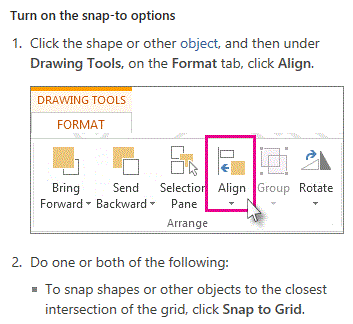 The red and blue right-angled triangles can be made using the "Right Triangle" tool which can be found in the Home tab, in the Drawing group.

The green and yellow shapes can be created by putting together a number of 1cm by 1cm squares. Upon completion of the shape drag over the shape to select all of the squares then select "Group" from the Format tab, Arrange group.
Turn the Snap To Grid option off an add custom animations to each of the shapes to make the first arrangement of shapes transform into the second.
---
---
---
The images on this page are from the Wikimedia Commons. The descriptions of the licences can be found on the following pages: Missing Square Puzzle and Sam Lloyd Image.