10% of £3.20 =
20% of £3.20 =
30% of £3.20 =
40% of £3.20 =
50% of £3.20 =
60% of £3.20 =
70% of £3.20 =
80% of £3.20 =
90% of £3.20 =
100% of £3.20 =

10% of £3.20 =
5% of £3.20 =
2.5% of £3.20 =
1.25% of £3.20 =
0.625% of £3.20 =

Work out the answers to these calculations in your head or on paper.
There are many uses for percentages in real life. Finding a good personal loan for example requires an ability to calculate percentages. Interest is the extra amount you would have to pay back to the personal loan company for borrowing the money. On the other hand you can earn interest by depositing money in a bank or building society.
| | | |
| --- | --- | --- |
| | This activity is suitable for students of mathematics all around the world. Use the button below to change the currency symbol used to make it more relevant to your students. You may wish to choose an unfamiliar currency to extend your students' experience. | |
---
% - This is the percent symbol.
Percent means 'out of 100'.
Find 50%:
As 50 is half of 100, then 50% means half. To find 50% of a quantity you need to halve (or divide by two). So 50% of 6 is 3.
Find 10%:
As 10 is one tenth of 100, then 10% means 'one tenth of'. To find 10% of a quantity you need to divide it by ten. So 10% of 800 is 80.
Find 25%:
As 25 is one quarter of 100, then 25% means 'one quarter of'. To find 25% of a quantity you need to divide it by four. So 25% of 20 is 5.
Another way of finding 25% of a quantity is first finding 50% then dividing the result by 2.
Find 33⅓%:
As 33⅓ is one third of 100, then 33⅓% means 'one third of'. To find 33⅓% of a quantity you need to divide it by three. So 33⅓% of 30 is 10.
Find 1%:
As 1 is one hundredth of 100, then 1% means 'one hundredth of'. To find 1% of a quantity you need to divide it by 100. So 1% of 800 is 8.
Find other percentages:
Other percentages can be found by combining some of the techniques mentioned above. Here are some examples:
To find 75% of a quantity add together 50% and 25% of it.
To find 20% of a quantity double 10% of it.
To find 5% of a quantity halve 10% of it.
To find 66⅔% of a quantity double 33⅓% of it.
To find 90% of a quantity subract 10% from that quantity.
To find 80% of a quantity subract 20% from that quantity.
To find 2% of a quantity double 1% of it
To find 52% of a quantity add 50% to 2% of that quantity
If you need to use a calculator to check your working. See Calculator Workout skill 3.
Answers
10% of £3.20 = £0.32 or 32p
20% of £3.20 = £0.64 or 64p
30% of £3.20 = £0.96 or 96p
40% of £3.20 = £1.28
50% of £3.20 = £1.60
60% of £3.20 = £1.92
70% of £3.20 = £2.24
80% of £3.20 = £2.56
90% of £3.20 = £2.88
100% of £3.20 =£3.20
10% of £3.20 = £0.32 or 32p
5% of £3.20 = 16p
2.5% of £3.20 = 8p
1.25% of £3.20 = 4p
0.625% of £3.20 = 2p
Note to teacher: Doing this activity once with a class helps students develop strategies. It is only when they do this activity a second time that they will have the opportunity to practise those strategies. That is when the learning is consolidated. Click the button above to regenerate another version of this starter from random numbers.
---
---
Your access to the majority of the Transum resources continues to be free but you can help support the continued growth of the website by doing your Amazon shopping using the links on this page. Below is an Amazon search box and some items chosen and recommended by Transum Mathematics to get you started.
Have you read Craig's book yet?

Craig Barton must surely be the voice of Mathematics teachers in the UK. His wonderful podcasts interviewing the industry experts have culminated in this wonderful book. As Craig says: "I genuinely believe I have never taught mathematics better, and my students have never learned more. I just wish I had known all of this twelve years ago..." more...

"How I wish I'd taught maths' is an extraordinary and important book. Part guide to research, part memoir, part survival handbook, it's a wonderfully accessible guide to the latest research on teaching mathematics, presented in a disarmingly honest and readable way. I know of no other book that presents as much usable research evidence on the dos and don'ts of mathematics teaching in such a clear and practical way. No matter how long you have been doing it, if you teach mathematics—from primary school to university—this book is for you." Dylan Wiliam, Emeritus Professor of Educational Assessment, UCL.
Casio Classwiz Calculator

There is currently a lot of talk about this new calculator being the best in its price range for use in the Maths classroom. The new ClassWiz features a high-resolution display making it easier to view numerical formulas and symbols but it isn't a graphical calculator as such (it has the capacity to draw graphs on your smart phone or tablet, via a scannable QR code and an app).

As well as basic spreadsheet mode and an equation solving feature you also get the ability to solve quadratic, cubic or quartic polynomial inequalities and the answer is given just as it should be written down, using the correct inequality symbols!

This calculator has a high-performance processor and twice the memory of previous models ensuring speedy operation and superior computational power.more...
Texas Instruments Nspire Calculator

This handheld device and companion software are designed to generate opportunities for classroom exploration and to promote greater understanding of core concepts in the mathematics and science classroom. TI-Nspire technology has been developed through sound classroom research which shows that "linked multiple representation are crucial in development of conceptual understanding and it is feasible only through use of a technology such as TI-Nspire, which provides simultaneous, dynamically linked representations of graphs, equations, data, and verbal explanations, such that a change in one representation is immediately reflected in the others.

For the young people in your life it is a great investment. Bought as a gift for a special occasion but useful for many years to come as the young person turns into an A-level candidate then works their way through university. more...
iPad Air

The analytics show that more and more people are accessing Transum Mathematics via an iPad as it is so portable and responsive. The iPad has so many other uses in addition to solving Transum's puzzles and challenges and it would make an excellent gift for anyone.

You have to hold iPad Air to believe it. It's just 7.5 millimeters thin and weighs just one pound. The stunning Retina display sits inside thinner bezels, so all you see is your content. And an incredible amount of power lies inside the sleek enclosure. So you can do so much more. With so much less. more...

Before giving an iPad as a gift you could add a link to iPad Maths to the home screen.
Click the images above to see all the details of these items and to buy them online.

---

Teacher, do your students have access to computers?
Do they have iPads or Laptops in Lessons?

Whether your students each have a TabletPC, a Surface or a Mac, this activity lends itself to eLearning (Engaged Learning).
Here a concise URL for a version of this page without the comments.
Transum.org/go/?Start=August26
Here is a student interactive percentages exercise:
Transum.org/go/?to=Percentages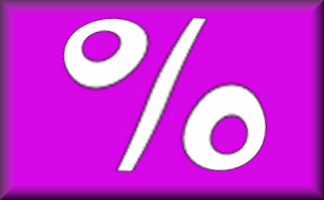 ---