Pythagoras' Theorem Quiz

A self marking exercise on the application of Pythagoras' Theorem.
Here are some questions which can be answered using Pythagoras' Theorem. You can earn a trophy if you get at least 14 questions correct. Each time you finish a question click the 'Check' button lower down the page to see if you got it right!
[Don't forget to include the units in your answers after question one]
Description of Levels
Close

Level 1 - Finding the hypotenuse
Level 2 - Finding a shorter side
Level 3 - Mixed questions
Level 4 - Pythagoras Theorem quiz
Level 5 - Three dimensional Pythagoras and Trigonometry
Pythagoras' Theorem
To find the longest side (hypotenuse) of a right-angled triangle you square the two shorter sides, add together the results and then find the square root of this total.
To find a shorter side of a right-angled triangle you subtract the square of the other shorter side from the square of the hypotenuse and then find the square root of the answer.
Example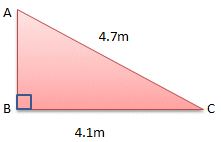 AB2 = AC2 - BC2
AB2 = 4.72 - 4.12
AB2 = 22.09 - 16.81
AB2 = 5.28
AB = √5.28
AB = 2.3m (to one decimal place)
Don't wait until you have finished the exercise before you click on the 'Check' button. Click it often as you work through the questions to see if you are answering them correctly.
Close