This Starter requires Flash but a version that does not require Flash can be found here:
Change the numbers on the apples so that the number on the lemon is 88.
[Double click an apple number to change it]
The Lemon Law states that the numbers on the apples are all single digit positive integers. The numbers on the oranges combine the apple numbers as tens and units. The number on the lemon is the sum of the oranges.
Can 88 be made according to the lemon law?
If not, can you prove it?
If it can be, how many different ways can it be done?
Which numbers can be made by the lemon law?
Answers
Note to teacher: Doing this activity once with a class helps students develop strategies. It is only when they do this activity a second time that they will have the opportunity to practise those strategies. That is when the learning is consolidated. Click the button above to regenerate another version of this starter from random numbers.
There is a printable worksheet to go with this activity.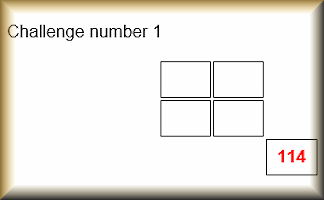 ---
---
Your access to the majority of the Transum resources continues to be free but you can help support the continued growth of the website by doing your Amazon shopping using the links on this page. Below is an Amazon search box and some items chosen and recommended by Transum Mathematics to get you started.
GCSE Revision and Practice

Whatever exam board you use for GCSE Mathematics, this book by David Rayner remains an all-round winner. With this latest edition presented in full colour and completely updated for the new GCSE(9-1) specifications, this uniquely effective text continues to increase your chance of obtaining a good grade.

This book is targeted at the Higher tier GCSE, and provides a wealth of practice with careful progression, alongside substantial revision support for the new-style grading and exam questions. With all the new topics included, and a dedicated section on using and applying mathematics, this unique resource can be used either as a course book over two or three years or as a revision text in the run-up to exams. more...

---

Teacher, do your students have access to computers?
Do they have iPads or Laptops in Lessons?

Whether your students each have a TabletPC, a Surface or a Mac, this activity lends itself to eLearning (Engaged Learning).
Here a concise URL for a version of this page without the comments.
Transum.org/go/?Start=January12
Here is the URL which will take them to a related student activity.
---