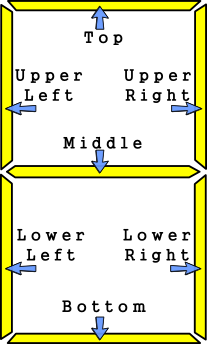 Originally calculators used seven small lights (or LEDs) to form the digits 0 to 9.
1. Which light is used most?
2. Which light is used least?
3. Which letters of the alphabet could be represented using this system?
4. How many different combinations of 'on' and 'off' can these seven lights make?
Answers
1. The lower right light is 'on' for 9 of the digits 0-9
2. The lower left light is only 'on' for 4 of the digits 0-9
3. Here's a start:
A could be represented with all lights on except for the bottom light;
B could be all lights on (same as the digit 8);
C could be top, upper left, lower left and bottom;
(If anyone manages to complete this list please share your answers here)
4. There are 27 or 128 different combinations.
---
---

---

Teacher, do your students have access to computers?
Do they have iPads or Laptops in Lessons?

Whether your students each have a TabletPC, a Surface or a Mac, this activity lends itself to eLearning (Engaged Learning).
Here a concise URL for a version of this page without the comments.
Transum.org/go/?Start=October23
Here is the URL which will take them to a related student activity.
---