Khmer's Homework
A Maths Starter of The Day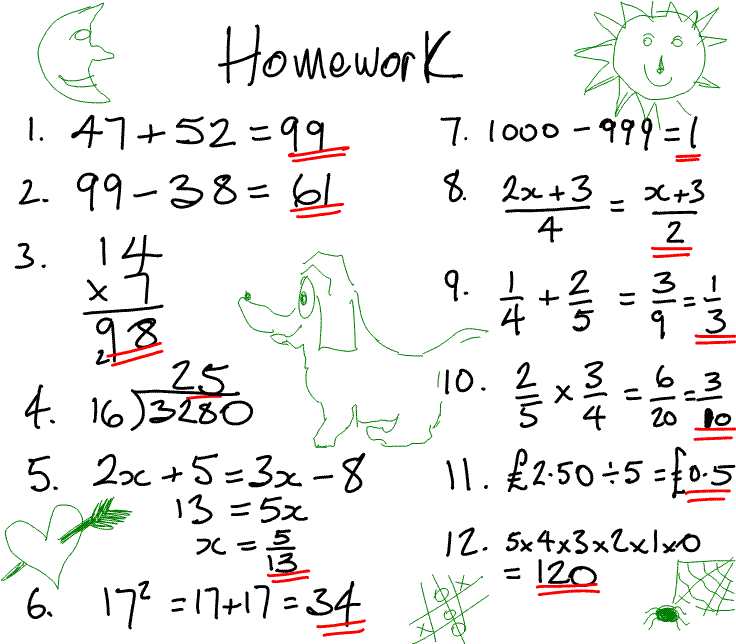 Check KHMER WOO's homework. If you find any of his answers are wrong please write down a sentence or two explaining what he did wrong.
Starter of The Day Menu | Transum Software | Privacy Policy
Topics: Starter | Algebra | Arithmetic
How did you use this starter? Can you suggest how teachers could present or develop this resource? Do you have any comments? It is always useful to receive feedback and helps make this free resource even more useful for Maths teachers anywhere in the world.
Click here to enter your comments.
If you don't have the time to provide feedback we'd really appreciate it if you could give this page a score! We are constantly improving and adding to these starters so it would be really helpful to know which ones are most useful. Simply click on a button below:
Excellent, I would like to see more like this
Good, achieved the results I required
Satisfactory
Didn't really capture the interest of the students
Not for me! I wouldn't use this type of activity.

This starter has scored a mean of 3.6 out of 5 based on 53 votes.
---
Answers
1. Correct
2. Correct
3. Correct
4. Wrong
5. Wrong
6. Wrong
7. Correct
8. Wrong
9. Wrong
10. Correct
11. Wrong
12. Wrong
---

Teacher, do your students have access to computers?
Do they have Laptops in Lessons or iPads?

Whether your students each have a TabletPC, a Surface or a Mac, this activity lends itself to eLearning (Engaged Learning).
Here is the URL for a concise version of this page without comments or answers.
Look back at the work you have done in your exercise book or on your computer. Find all of the mistakes you have made. Create a page like the one above containing your mistakes and some correct calculations. Email it to another student to mark.
---