Imagine a game in which two people roll a dice and whoever gets the higher number wins. A prize is awarded to the person winning most times after 100 games.
The catch is the dice don't have the numbers one to six on their faces. There are four different dice and you are allowed to choose which dice you will play with.
Which dice would you choose to give you the best chance of winning the prize?
Answer
The answer is a bit like rock, paper, scissors. Whichever dice you choose, your opponent could always pick one of the remaining dice that has a better chance of beating you in the long term. Construct the possibility spaces for the possible dice pairings to see for yourself.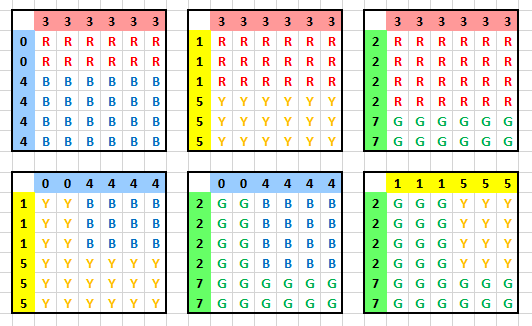 Blue beats red, red beats green, green beats yellow and yellow beats blue!
23rd Feb 2018: Just found a great article about non-transitive dice by the wonderful Dr James Grimes.
More Mathematics Lesson Starters
---
---
Your access to the majority of the Transum resources continues to be free but you can help support the continued growth of the website by doing your Amazon shopping using the links on this page. Below is an Amazon search box and some items chosen and recommended by Transum Mathematics to get you started.
---