| | | |
| --- | --- | --- |
| | Maa Da Pyar | |
"THE SAHOTAS MEMORIAL SINGLE"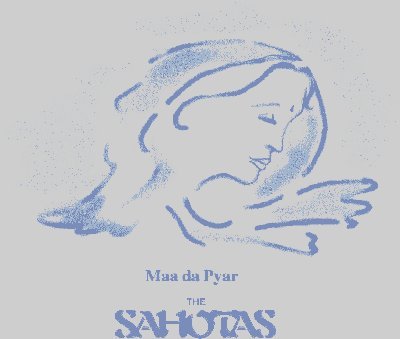 This SAHOTAS single is a ballad titled "MAA DA PYAR" ("MOTHERS LOVE") and is dedicated to the loving memory of their late Mother who sadly passed away in August 1997 through illness. Many people will be able to relate to the song through their own experiences.
It is available from all UK Asian Music Stores on Kamlee Records.There are 2 mixes of the song plus a remix of "Be With You"
This has been a very emotional period in their lives,
she was an inspiration to the whole family
and had a huge impact on them.
It was only fitting that they made a tribute song
in memory of her.
A track that has come from their hearts and to take her
name that much further.

The lyrics were co-written by "Surjit Sahota".
The song will relate to everyone at one time or another
in their lives.
"Maa da Pyaar" is a ballad. A song about family
relationships, from the early days of growing up
memories of the fun and games with your brothers and
sisters, fathers teachings and nothing compares
to "mothers love".

BE WITH YOU
This track is the additional song, a ballad originally on
their "Right Time" album.
The song has been lyrically adjusted and re-recorded for
the single and is sung in english.
The Sahotas felt this song is the perfect addition to
the single.
A percussive sounding backing track, with a blend of
instruments ranging from saxophone, Spanish
guitar to santoor and sarangi. Although the song is sung
in english it has a very eastern melody with
layers of harmonies to compliment it.

Track list:
a) Maa da pyaar
b) Be with you
c) Maa da pyaar (remixed)

Music written, arranged and produced by Mukhtar Sahota
and Surjit Sahota.

All proceeds from this single go to the Stroke Association

MAA DA PIYAAR




SANU GALIA CH KEHDNA NA PULIA ( REP )
NA PERN TEH PARA DA PIYAAR
BARP PERN TEH PARA NA KADEH PULDEH ( REP )
NA PULEH SANU MAA DA PIYAAR ( REP )



SADEH DIL DIA ASI HI HA JAN DEH
DUK KI SUNAYEH DIL DEH
NITH KATHA DEH JAVAB HA UDEEK DEH
TEH RAYEH ASI DIN GIN DEH
SANU MARIA HE SADI MAJBOORI
PARDESI HOEH TA ASI YAAR
CHORUS


MAA KUT JADOH SINEH NAL LA LAVEH
TAND PE HE JANDI DIL NU
BARA CHETHA ONDHA LAADLIA PERNA DA
RAKRI DEH SHUB DIN NU
KAWI RISHTHA JAGAH NAHI LEH SAKDA
KI MAA VALI TAH KADEH YAAR
CHORUS


ONDHA CHETHA JADOH HANI BELI YAARA DA
FER SADHA NAYOH DIL LAG DA
CHETEH KAR KEH PANJAB DIA GALA
TA AKIA CHO NEER VAGDA
DIL HALKA JIHA HO JANDA HE
KI ROH LENDEH TA ASI YAAR
CHORUS


HAPPY BAINS SHADIPUR VALA GEET LIKEH
VICH PARDES ANKEH
CHAD KAR VAR DHOOR AKEH BETGEHA
PESIA DEH MOH CH ANKEH
HUN LABDI NA MAA DEH PIYAAR VALI
TANDI MITI CHA KITEH YAAR
CHORUS.

Divine Mother

Divine mother I can't see you,
but I know you are there,
for sure I know mother,
you still care

Mother through my window I see a view,
gardens full of growth,
plants and flowers,
just like the ones you grew

Mother you gave me,
so much to give,
thats my motive,
to persist.

Mother your teachings of love, peace and unity
your nearest and dearest shall follow beyond eternity

Surjit Sahota

Available from Kamlee Records Ltd
Kamlee House, 369 High Street
West Bromwich, West Midlands
B70 9QL. Tel. +44 (0)121 580 1283
Music and vocal arrangements are written and produced by
Mukhtar Sahota and Surjit Sahota
Lead and background vocals Surjit Sahota

Tabla and Dholak Raj Sahota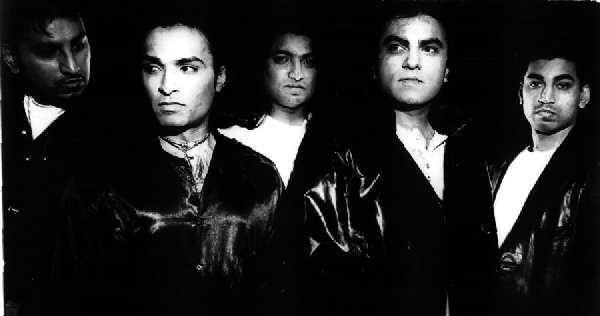 REALLY WANNA LOOSE THIS SORROW
CAN'T SEEM TO CHASE IT AWAY
NOTHING ANYBODY CAN DO FOR ME
NOTHING ANYONE CAN SAY

I'M REALLY MISSING YOU
JUST WANNA BE WITH YOU
I'M REALLY MISSING YOU
JUST WANNA BE WITH YOU

DON'T UNDERSTAND THE WAY I'M FEELING
YOU TOLD ME YOU HAVE TO BE FREE
LIVING MY LIFE WITH YOU GUIDING ME
WITHOUT YOU I CAN NOT SEE

I STILL NEEDED YOU
JUST WANNA BE WITH YOU
I STILL NEEDED YOU
JUST WANNA BE WITH YOU

I'M SEARCHING FOR A REASON TO CARRY ON
AND I'M LIVING LIFE FROM DAY TO DAY
YOU DON'T KNOW WHAT I'M GOING THROUGH
HOPE ONE DAY YOU'LL COME BACK THIS WAY

JUST WANNA BE WITH YOU
JUST WANNA BE WITH YOU
JUST WANNA BE WITH YOU
JUST WANNA BE WITH YOU

NO ONE I'VE MET COMES CLOSE TO YOU
NO ONE IN THE WORLD CAN COMPARE
MEMORIES OF YOU ALL AROUND ME
WITHOUT YOU I'M GOING NOWHERE
HAVE YOU GONE FOREVER

JUST WANNA BE WITH YOU
JUST WANNA BE WITH YOU
JUST WANNA BE WITH YOU
JUST WANNA BE WITH YOU