Hot Sak's Plaa Tod cap Sauce Chu Chi
[Fried Fish with Chu Chi Sauce]
Ingredients
Fillet of Fish
2 tsp Fish Sauce
2 tsp Sugar
100 ml Coconut Milk
1 tbsp Red Curry Chili Paste
Bergamot leaf
Vegetable Oil
Plain Flour
Method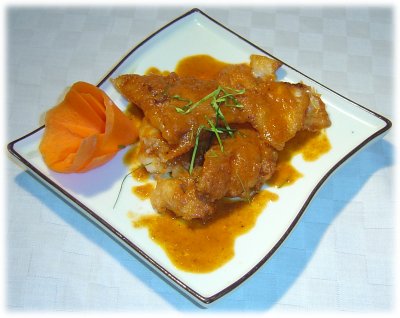 Ingredients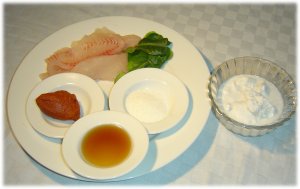 Method
Coat the fish with batter made from the flour and a little water. Heat the oil in a pan. Pan fry the fish when the oil is hot enough until it is cooked then set aside while you make the sauce.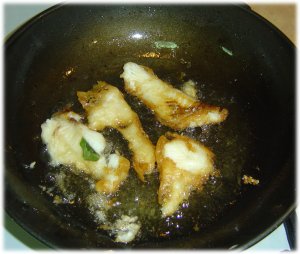 In a heated wok add 3 tbsp coconut milk. When it is hot add the chili paste and stir together for one minute. Add the rest of the coconut milk when it has come to the boil. Season with sugar and fish sauce. Leave it for about about 3 minutes and then taste; adding extra seasoning if necessary. The sauce should be a little sweet and spicy.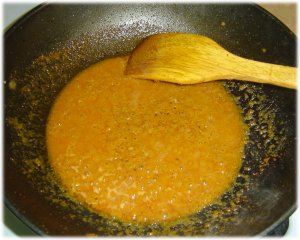 Pour the sauce over the fish and garnish with the bergamot leaves (thinly sliced).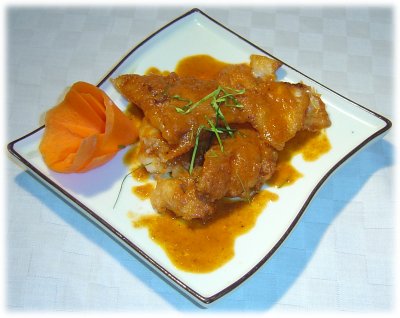 ---