25cm
30cm
Calculate the distance around this shape. All angles are right angles but the diagram is not drawn to scale.
Answers
Extension
If all of the vertical edges are the same length and all of the horizontal edges are the same length, what is the area of the shape?
---
---
---

---

Teacher, do your students have access to computers?
Do they have iPads or Laptops in Lessons?

Whether your students each have a TabletPC, a Surface or a Mac, this activity lends itself to eLearning (Engaged Learning).
Here a concise URL for a version of this page without the comments.
Transum.org/go/?Start=February9
Here is the URL which will take them to a related student activity.
Transum.org/go/?to=areacomposite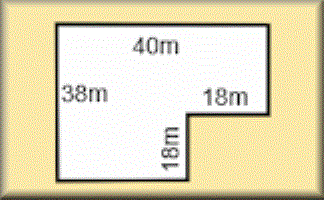 ---
Extension Answer