The 31st August is two thirds of the way through the year. Where else might the fraction two thirds be found?
Make a poster showing a variety of calculations that give the answer two thirds. Include multiplication, division, addition and subtraction calculations. You could also use algebra, square roots, ratio and any other mathematics you know.
Example:
Find x if 6x − 2 = 2
Note to teacher: Teacher: If any of your pupils produce a good poster, please send us a digital copy (scanned or photographed) so that we can display it on this page as an example.
Example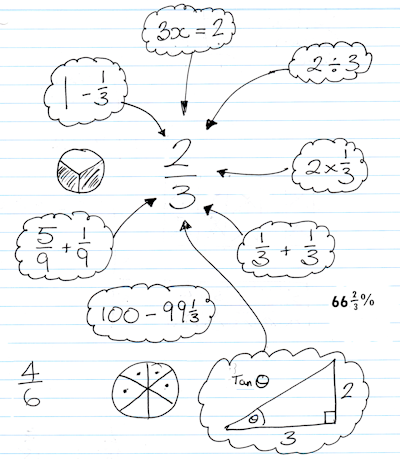 ---
---

---

Teacher, do your students have access to computers?
Do they have iPads or Laptops in Lessons?

Whether your students each have a TabletPC, a Surface or a Mac, this activity lends itself to eLearning (Engaged Learning).
Here a concise URL for a version of this page without the comments.
Transum.org/go/?Start=August31
Here is the URL which will take them to a fractions activity.
---