The challenge at level 7 is to find all the solutions of the Plus puzzle. Each time you find a different solution click the camera button that will appear. You will be awarded a trophy if you find all possible solutions.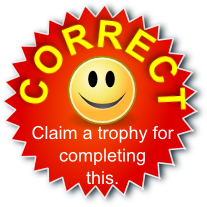 Well done. You have solved this puzzle. Claim a trophy using the button below then come back and try one of the other levels.

Your answer is not correct. Press the 'Clear' button and try again.
This is Plus level 7. You can also try
Description of Levels
Close

Level 1 - Arrange the numbers 1 to 5
Level 2 - Arrange the numbers 2 to 6
Level 3 - Arrange the numbers 3 to 7
Level 4 - Arrange multiples of 4
Level 5 - Arrange positive and negative numbers
Level 6 - Arrange larger positive and negative numbers
Level 7 - Find all the ways of arranging the numbers 1 to 5