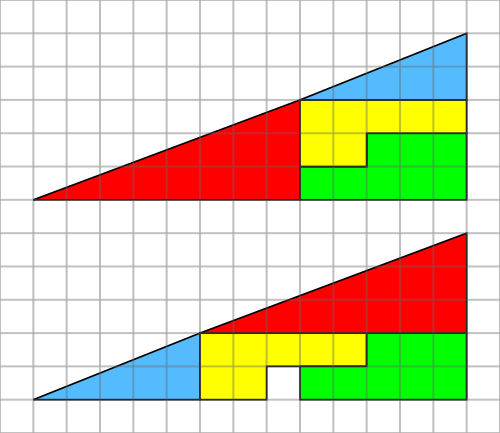 The four coloured pieces can be put together in two different ways to make these shapes with base 13 units and height 5 units. Why is there one square missing in the second arrangement?
Topics: Starter | Area | Mensuration | Puzzles | Ratio | Shape
How did you use this starter? Can you suggest how teachers could present or develop this resource? Do you have any comments? It is always useful to receive feedback and helps make this free resource even more useful for Maths teachers anywhere in the world.
Click here to enter your comments.
If you don't have the time to provide feedback we'd really appreciate it if you could give this page a score! We are constantly improving and adding to these starters so it would be really helpful to know which ones are most useful. Simply click on a button below:
Excellent, I would like to see more like this
Good, achieved the results I required
Satisfactory
Didn't really capture the interest of the students
Not for me! I wouldn't use this type of activity.

This starter has scored a mean of 3.6 out of 5 based on 230 votes.
---
Answers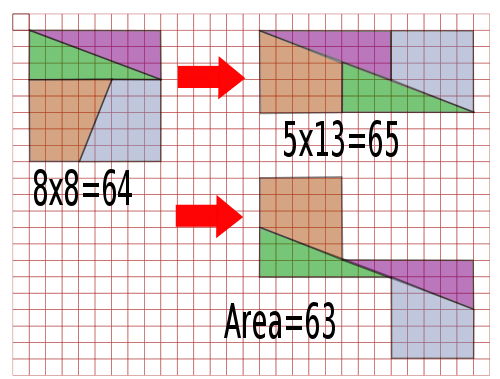 Sam Loyd presented this Chessboard Paradox at the American Chess congress in 1858. Notice the Fibonacci numbers which can be found in both of these diagrams.
---
---
---

Teacher, do your students have access to computers?
Do they have iPads or Laptops in Lessons?

Whether your students each have a TabletPC, a Surface or a Mac, this activity lends itself to eLearning (Engaged Learning).
Here a concise URL for a version of this page without the comments.
Here is the URL which will take them to a related student activity.
Students can create their own presentation of the Missing Square Puzzle to show to other classes or in an assembly. Here are some guidelines for using PowerPoint
PowerPoint 2007:
On the Home tab, in the Drawing group, click Arrange, point to Align, and then click Grid Settings.
Tick the Snap objects to grid and the display grid on screen boxes. Select from the dropdown box a spacing of 1cm.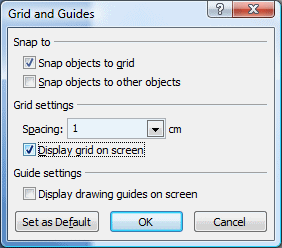 PowerPoint 2013: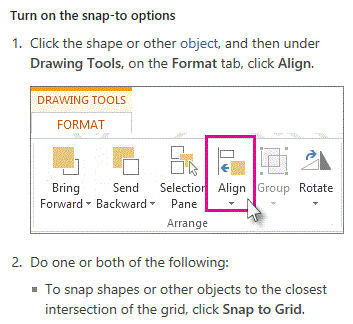 The red and blue right-angled triangles can be made using the "Right Triangle" tool which can be found in the Home tab, in the Drawing group.

The green and yellow shapes can be created by putting together a number of 1cm by 1cm squares. Upon completion of the shape drag over the shape to select all of the squares then select "Group" from the Format tab, Arrange group.
Turn the Snap To Grid option off an add custom animations to each of the shapes to make the first arrangement of shapes transform into the second.
---
---
---
The images on this page are from the Wikimedia Commons. The descriptions of the licences can be found on the following pages: Missing Square Puzzle and Sam Lloyd Image.