This page is best viewed using Flash Player.
A version of this activity which does not require Flash can be found here.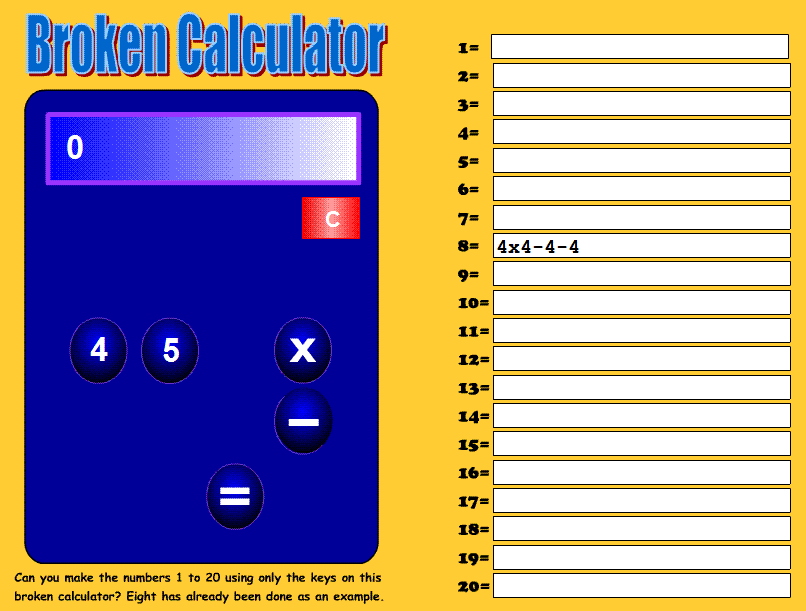 Teachers' Notes
Press the "C" key before starting a new calculation
Press F5 or "Refresh" to start again
Click here to open activity in new window (The press F11 to hide tool bars)
This is an LTR (Left to right) calculator.
Other broken calculators:
BIDMAS 1 and 5 - 2 and 3 - 3 and 4 - 4 and 5 - 5 and 2
Left To Right (LTR): 2 and 3 - 3 and 4 - 4 and 5
Starter of The Day Menu | Transum Software | Privacy Policy
Topics: Starter | Arithmetic | Calculator | Puzzles
How did you use this starter? Can you suggest how teachers could present or develop this resource? Do you have any comments? It is always useful to receive feedback and helps make this free resource even more useful for Maths teachers anywhere in the world.
Click here to enter your comments.
If you don't have the time to provide feedback we'd really appreciate it if you could give this page a score! We are constantly improving and adding to these starters so it would be really helpful to know which ones are most useful. Simply click on a button below:
Excellent, I would like to see more like this
Good, achieved the results I required
Satisfactory
Didn't really capture the interest of the students
Not for me! I wouldn't use this type of activity.

This starter has scored a mean of 4.1 out of 5 based on 183 votes.
---
Answers
Here is one set of answers but there are many more!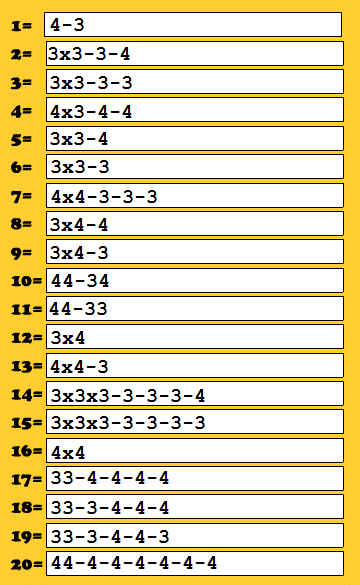 ---

Teacher, do your students have access to computers?
Do they have Laptops in Lessons or iPads?

Whether your students each have a TabletPC, a Surface or a Mac, this activity lends itself to eLearning (Engaged Learning).
Here is the URL for a concise version of this page without comments or answers.
Transum.org/go/?Start=September5
Here's the URL which will take
them to a student version of this activity.
www.transum.org/go/?to=Calc34
---
---
Maths is Important!
"Mathematics equips pupils with uniquely powerful ways to describe, analyse and change the world. It can stimulate moments of pleasure and wonder for all pupils when they solve a problem for the first time, discover a more elegant solution, or notice hidden connections. ...
Mathematics is a creative discipline. The language of mathematics is international. The subject transcends cultural boundaries and its importance is universally recognised. Mathematics has developed over time as a means of solving problems and also for its own sake."