Laptops In Lessons
Get the most out of laptop computers in Mathematics lessons

Student Voting
If the students have access to the Internet in their Maths lesson here's an alternative to "Put your hands up". Certain questions can be posed to the whole class and the students asked to register their opinion electronically and remain anonymous. As the teacher you can instantly see, and share with the class, a bar chart representing the views of the whole class.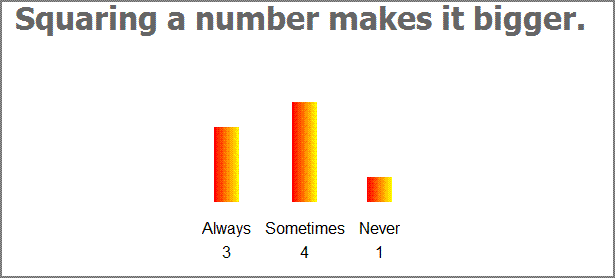 This provides a great opportunity which has the following advantages over the traditional hands up approach:
Because of the anonymous feature, students lacking confidence will feel more comfortable contributing their opinion;
The teacher can see what the whole class thinks rather than just the student who put up their hand;
A difference of opinion provides a stimulus for paired discussion followed by a second vote;
Click on the following link to get started:
Don't forget that just because your students have laptops there is no reason why you shouldn't also be planning for a variety activities, many of which will involve the laptops being closed (screen don on the keyboard).
Activity Ideas
Do you have any tips for using laptops (or other portable computers) in Mathematics lessons? Click here to enter your ideas.
---