Have you got change?
The other day I was asked if I could change a 50 pence piece. I had more than 50 pence in coins in my pocket but I could not make exactly 50 pence.
Can you find several ways this could happen?
What is the largest amount I could have had in my pocket?
The Four Rules
Here are four threes 3 3 3 3
And here are four signs + - x /
See if you can make all of the numbers from 0 to 10 using all four threes and any or all of the signs.
(now try with four fours)
Odd Dice
Take three dice. How many ways can they be turned so that they show only odd numbers on top?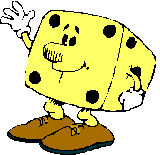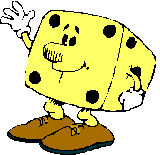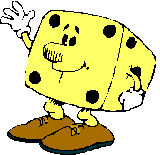 Hula Hoops
If a number of Hula Hoops are dropped on the floor, what is the maximum number of regions they might form.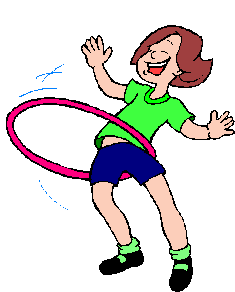 Egg boxes
In how many different ways can two eggs be arranged in an egg box?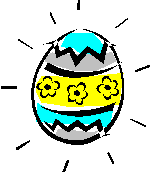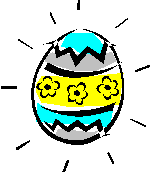 Three eggs?
Decimal Products
Find two decimal numbers that add up to exactly one.
What is the product of these two decimals?
Braille
Find out how the Braille alphabet is designed.
Investigate the possibility of redesigning it to make it easier to learn.
Lamp posts
In a village there are three streets. All the streets are straight. One lamp-post is put up at each cross-roads.
What is the greatest number of lamp-posts that could be needed?
Now try for four streets and five streets, can you see a pattern?
Triangles
Using 12 rods of varying lengths how many different triangles can you make?
What types of triangles can you make? Can you make a triangle with any three rods?
Rectangles.
The perimeter of a rectangle is 28cm. What could its area be ?
Crossing the River.
Two men and two boys want to cross a river. None of them can swim and they only have one canoe. They can all paddle but the canoe will only hold one man or two boys.
How do they all get across?
Palandromic numbers
Palandromic numbers have digits that read the same forwards as backwards e.g. 121 or 2334332
Take any 2 digit number e.g. 26
Reverse the number 62
Add the 2 numbers together 62 + 26 = 88
Investigate what happens for all 2 digit numbers.
How many steps does each number take to become palandromic?
House painting
The houses in Mathsland are all 3 storeys tall. Each storey is painted using one colour.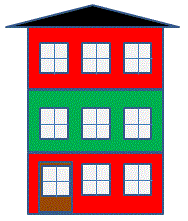 How many ways can the houses be painted if you have:
2 colours; 3 colours; 4 colours.......
Design a badge
You have been asked to design a new badge.
The badge must be rectangular in shape and the design symmetrical. Your design must be based upon squares. Your badge can have a maximum of 3 colours.
How many different badges can you make?
Tetrominoes
A tetrominoe is a shape made of four squares joined edge to edge. How many different tetrominoes are there? Can you make them all?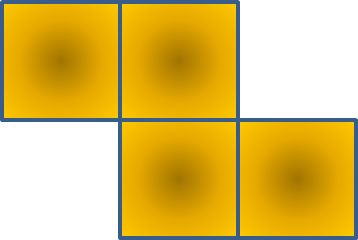 Investigate pentominoes and hexominoes
Halving
How many different ways can you cut this shape in half!
What if the shape is 3 x 3 grid? A different size?
Area shapes
Investigate polygons with an area of 4 sq. units.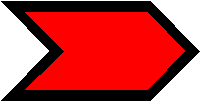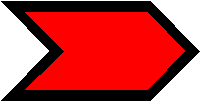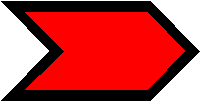 Investigate polygons with other areas.
Beginning with One
Is it true that most numbers begin with 1?
Think of numbers you see everyday:
Prices: £1.99
Dates: 17th May 2013
Ages: 13 years
Serial numbers: 1761956.
lnvestigating stamps
The post office only has 1p, 2p, 4p, 8p, 16p, 32p stamps. If you can only buy 1 stamp for each amount, how many different letters can you send?
The cheapest rate is 1p!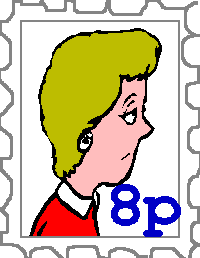 Digit sums and multiples
The number 18 is twice the sum of its digits
18 = 2 x (1+8)
The number 27 is 3 times the sum of its digits.
Investigate numbers which are; 4, 5, 6 ....... times the sum of their 2 digits.
Traffic jams
Cars can be lined up in traffic jams in different ways.
For example two cars could be ordered;
red car, blue car or blue car, red car.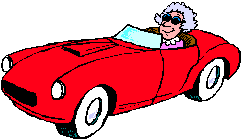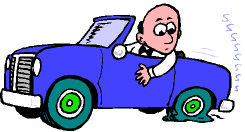 How many ways can three cars be lined up?
How many ways can four cars be lined up?
Steps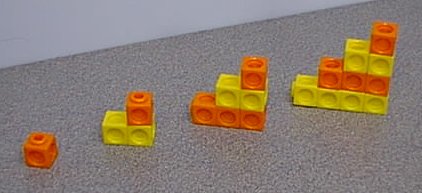 Investigate this growing sequence of steps.
How many cubes did it take to build each model?
What is the surface area of each step model?
Draw a side (2D) view of each model, what is the perimeter of each drawing?
What would be the properties of the 100th model?
Investigate further.....
Do you have any starting points for mathematical investigations or comments about the investigations we have presented here? Click here to enter your ideas.
A mathematical investigation is quite different to other mathematical activities. The best investigations are open ended and allow students to choose the way they work and how they record their findings. It is one of the few occasions when 'going off on a tangent' is not only acceptable but actively encouraged (within reason).

Students may ask for 'the answers' but this supposes that the activity is closed. Investigations can always be extended by varying the initial instructions or asking the question 'what if...?'. Sometimes students point out that the instructions are ambiguous and can be interpreted in different ways. This is fine and the students are encouraged to explain how they interpreted the instructions in their report.

Younger students may benefit from a writing frame when producing the reports of their investigations. Teachers may suggest sections or headings such as Introduction, Interpretation, Research, Working and Conclusion or something similar.