Hot Sak's Gwittyo Tom Yam Gung:
[Spicy Lemon Shrimp Soup with Noodles]
Ingredients
80g Shrimp
60g mushrooms
1 stalk of lemon grass (sliced)
4 or 5 lime leaves
Bunch of Thai parsley
1 tbsp Tom Yam Chili paste (Can buy in a jar)
1½ tbsp Sugar
5 tbsp Milk
3 cups of pork stock
1 tbsp Lemon Juice
1½ tbsp Fish Sauce
2 tbsp Tamarind Juice
100g Sen Mee noodles]
Crushed peanuts
Method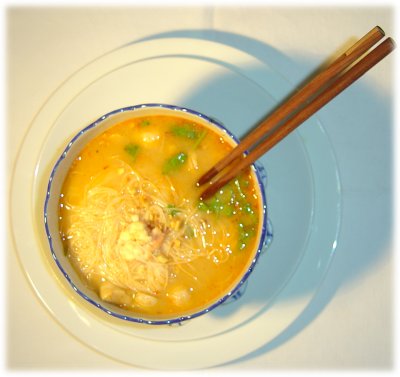 Ingredients
Method
Bring the stock to the boil and add mushrooms, tamarind juice, fish sauce, sugar, lemon grass, the leaves, shrimp, chili paste
After about 3 minutes add the milk and turn off the heat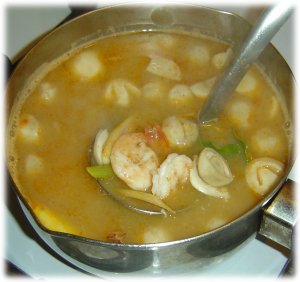 Add 1 tbsp lemon juice then prepare the noodles
Bring some water to the boil in a large wok. Add the noodles until they soften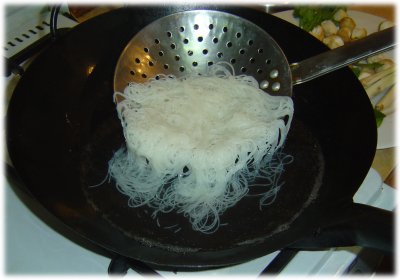 Drain the noodles
Add the tom yam gung to the noodles and serve immediately. Garnish with crushed peanuts.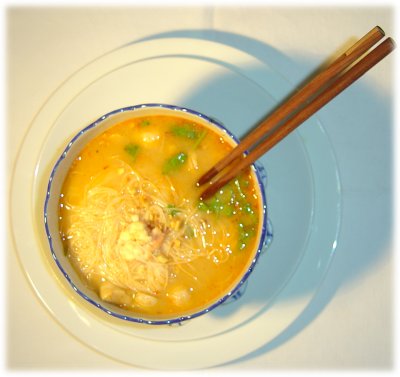 ---